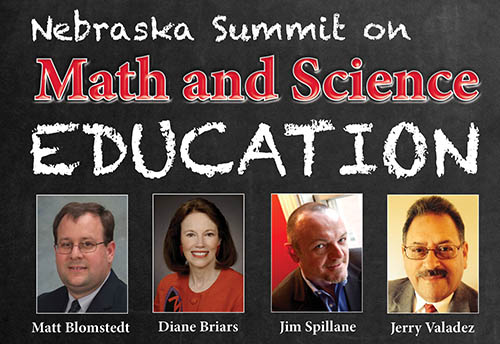 With the introduction of new standards in both mathematics and science, Nebraska leaders in PK-12 STEM education are poised to implement policies that will have a significant impact on achievement in Nebraska's schools. The Nebraska Summit on Math and Science Education will bring together leaders in math and science education to take stock of the strengths and challenges of Nebraska's educational system and how best to move forward to ensure a solid foundation for the state's future citizens.

The Nebraska Summit on Math and Science Education will be held all day on Monday, Dec. 8, 2014, at the new NIC Conference Center on the Nebraska Innovation Campus, 2021 Transformation Drive in Lincoln. To encourage statewide participation, funds for travel and lodging are available for those who live outside the Lincoln area.

Featured speakers thus far are Matt Blomstedt, Nebraska State Commissioner of Education; Diane Briars, NCTM President; Jim Spillane, Northwestern University; and Jerry Valadez, Central Valley Science Project Director, Fresno, California.

A conference pre-session will take place on Sunday evening, Dec. 7, from 7 p.m. to 9 p.m. at the Embassy Suites. The pre-session will offer hands-on enrichment activities for mathematics and science classrooms, along with a Math Teachers Circle event.

Registration for the conference is $50 and is now open. Lunch, a reception and meeting materials are provided as part of the registration fee. Registration closes Dec. 1.

Concurrent breakout sessions will address issues in early childhood, elementary and secondary math and science education; teacher preparation; professional development for math and science teachers; STEM education for diverse learners; Next Generation Science and Nebraska State/Common Core Mathematics standards; rural education; and assessment.

A block of rooms has been reserved at the Embassy Suites in downtown Lincoln. These rooms will be held until November 16. Individuals will need to call in and make their own reservations at (402) 474-1111 using the code "SMC" or use the following URL and book it online: http://embassysuites.hilton.com/en/es/groups/personalized/L/LNKESES-SMC-20141205/index.jhtml?WT.mc_id=POG. The conference will cover a one-night stay for Sunday, Dec. 7, as well as parking (one entry/exit), internet and breakfast at the hotel. Individuals who do not cancel within 24 hours of their stay or do not check-in will be charged $99 per night plus all applicable taxes. Individuals making hotel reservations after Nov. 16 may not receive the discounted rate and will be responsible for all costs.

Continue to check our website for more details about the conference: http://scimath.unl.edu/conferences. We encourage teams of administrators, math teachers and science teachers from schools and districts to attend, and a member of the team can register the group.