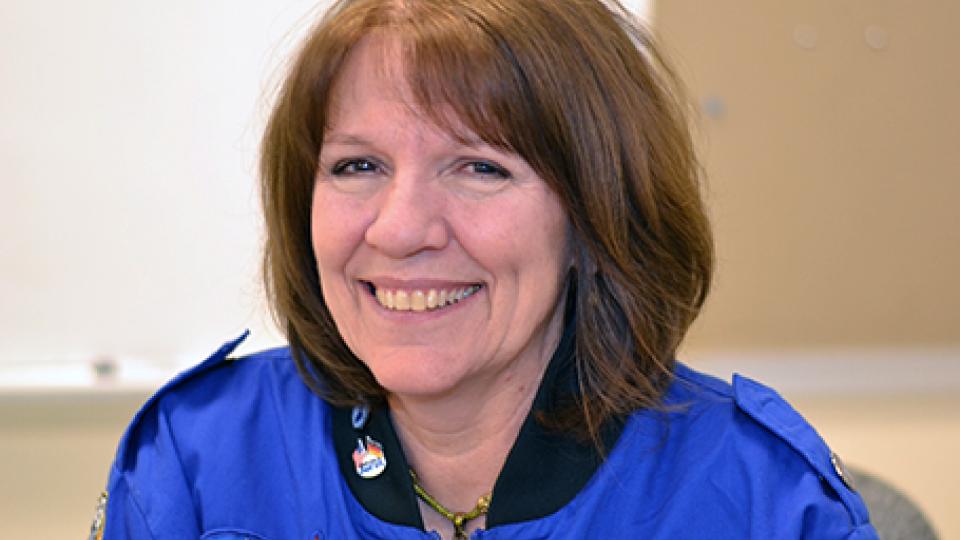 LeeAnn Vaughan, a science teacher from Omaha Burke High School, is the 2015 Christa McAuliffe Prize for Courage and Excellence in Education recipient. The College of Education and Human Sciences at UNL presents the annual award to a teacher who exemplifies the character of Christa McAuliffe, the first teacher in space who died in the 1986 Challenger space shuttle disaster. Vaughan was recognized at a banquet March 8 at the East Campus Union.

Vaughan didn't pursue a teaching career until she went to college in her thirties. After starting a family and a successful tax preparation business, Vaughan decided to take some business classes. She enjoyed helping other students with their business studies, and they were so impressed they encouraged her to become a teacher. Her students have been the benefactors of that decision.

As a biology teacher, Vaughan became fascinated with biotechnology and began researching all she could find on the subject. She took courses, visited biotech companies and wrote a grant for developing a biotech curriculum at Omaha North High School. Her success earned her the National Biotech Educator of the Year from a biotech industry group.

Omaha Public Schools later asked her to expand the OPS educational program at the Henry Doorly Zoo. Over four years, she visited schools throughout the district to encourage students to apply for the program. She created opportunities for a diverse group of students to participate in and looked for students with a passion and spark that would help them succeed. Vaughan also reached out to area veterinarians to provide real-world experiences for her students.

At Omaha Burke, she has built yet another successful program for students to learn about powered flight and space flight. The Air and Space Academy gives students an opportunity to take the written portion of the pilot's license exam, learn about operations at Eppley Airfield and participate in the Civil Air Patrol chapter based at Burke. She also teaches a rocketry class where students learn principles of thrust and satellite orbits and the teamwork and organization required to accomplish complex aerospace engineering projects.

The same drive that led her to biotech firms around the country also led her to a summer working with the Operations Management Team at Eppley Airfield, to membership in the Civil Air Patrol and to a flight on board NASA's Stratospheric Observatory for Infrared Astronomy. Vaughan is driven to learn about her subject and to teach from her experience.

Vaughan earned both bachelor's and master's degrees from the University of Nebraska Omaha. She received a $1,000 stipend and a plaque at the March 8 banquet in her honor. Burke High School will receive a $500 award to help support important school activities.

The award is made possible by gifts and contributions. Union Bank is provided generous support for this year's prize. The Lincoln Journal Star newspaper provided initial support by donating the proceeds of the sale of a drawing created by cartoonist Paul Fell in the memory of McAuliffe. Other contributors include the Flavel Wright family, Rocke Huntington, State Farm Insurance, the Nebraska State Education Association, UNL College of Education and Human Sciences, Don Spinar of RBC Wealth Management and Mildred and Melvin Mobley.

For nomination information and additional details about the Christa McAuliffe Prize for Courage and Excellence in Education, go to http://cehs.unl.edu/courage.