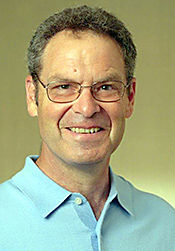 James A. Rynearson, 61, from Lincoln, died peacefully at home on Sunday, March 29, 2015 after a brief battle with cancer. Jim was born on October 2, 1953 in Detroit to Dr. Jack and Nancy (Lane) Rynearson. He grew up in Michigan and graduated from Grand Blanc High School in 1971. He went on to graduate from Michigan State University in 1977 and Kearney State College with a masters degree in science education in 1985.

On July 14, 1979 Jim married Kathie Miller in Minden. Jim was a science educator for 33 years in Nebraska. He taught at Laurel-Concord Schools, Johnson-Brock Schools and for 21 years Jim taught at Lincoln High School. He spent the past five years of his career working at the University of Nebraska-Lincoln helping to guide future science teachers. Jim never lost his love for science or his enthusiasm for teaching and learning. Jim was an active member of St. John the Apostle parish and a Fourth Degree member of the Knights of Columbus.

Jim is survived by his wife Kathie; son Father Ben Rynearson and daughter Claire Rynearson; mother Nancy Rynearson, Grand Blanc, Mich.; brothers John (Monica); Jeff and Joe; sisters: Jane (Charlie) Foster; Janet (Rocky) Husaynu; Judi (Les) Perry; Jean Jajou; Joan (Jeff) Moul; many nieces, nephews, in-laws, relatives and friends. Jim is preceded in death by his father and infant sister Sally.

Jim's service was on April 1 at St. John's Catholic Church, where his son, Ben, delivered the service and emphasized Jim's love of learning and for telling stories. Memorials suggested to the family for future designation. Condolences may be left at http://www.bmlfh.com.