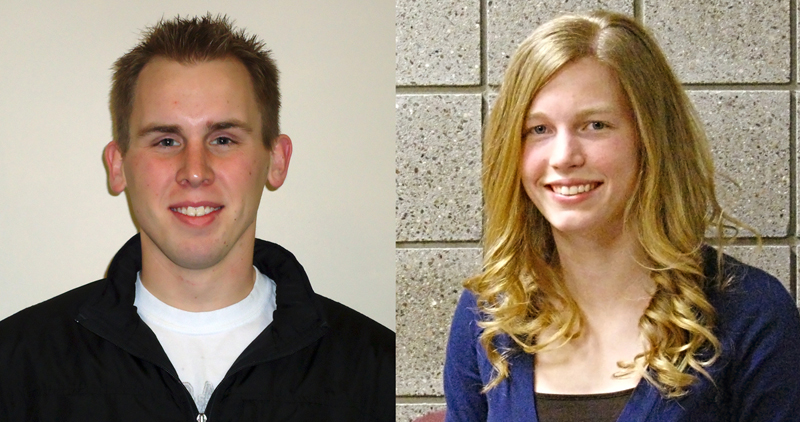 Beth Neilsen and Matthew Manske have been named the Intramural Sports 'Athlete of the Year' award winners for the 2011-12 academic year. The award is presented by UNL Campus Recreation.

Neilsen is a computer science and pre-med major from Wamego, Kan.; this is the second consecutive year for her to win the award. Manske is a mechanical engineering major from Fort Worth, Texas.

The Intramural Sports Athlete of the Year Award is presented annually to one female student and one male student who each:

•embody the spirit of Intramural Sports on the University of Nebraska–Lincoln campus,
•accumulate the highest point total by participating in designated Athlete of the Year events throughout the academic year,
•find success regardless of ability since points are awarded for both participation and individual placing results,
•take part in a variety of events, including those that may be considered outside of mainstream sports and activities, and
•is introduced to activities that promote lifelong leisure pursuits as well as competitive sports.

In total, 68 events in 43 sports were offered to students as Intramural Sports this year. The 14 events designated for Athlete of the Year consideration were: tennis singles, cross country, bench press contest, obstacle course, 9-ball pool, bowling, sports trivia, chess, table tennis singles, free throw contest, racquetball singles, wrestling meet, indoor track meet, and air rifle.

Intramural Sports is a program of UNL Campus Recreation, whose mission is to enhance the educational experience and promote lifelong wellness through excellent recreation programs, services and facilities. Intramural Sports directly contributes to the physical, social, and emotional wellness of UNL students.