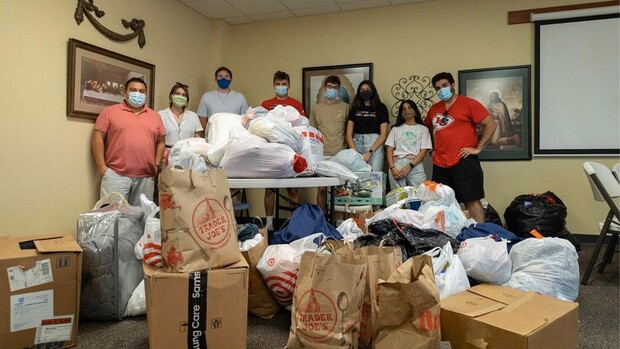 Huskers and RSOs can connect with service opportunities to help the Lincoln community. Join fellow Huskers this month to volunteer at nonprofits connected to immigrant and refugee support.

_______________________

Explore and Understand: Immigrant & Refugee Support

Refugees are people who have fled war, violence, conflict or persecution and have crossed an international border to find safety in another country. Immigration and refugee support involve helping refugees and displaced people with access to resources, education, transitional programs and support programs.

Huskers can learn more about the Lincoln Area New Americans Task Force Immigrant and Refugee 2020 Survey Reportby reading this article.

_______________________

Catholic Social Services

Catholic Social Services is expecting to resettle a total of 130 Afghan refugees. Huskers can get involved by making donations and volunteering to help the CSS team properly resettle families through the Hope to the Good Life initiative.

Sign up here to attend the meetings.

Questions?

Reach out to: jdravitzki@cssisus.org

_______________________

Lutheran Family Services

Lutheran Family Services refugee support program provides case management to especially vulnerable New Americans. Huskers can assist refugees by volunteering as a group or individually to furnish living spaces, collect household supplies and purchase groceries.

Sign up here to volunteer.

Questions?

Reach out to: hkaffenberger@lfsneb.org

____________________

Refugee Empowerment Center

Refugee Empowerment Center is resettling 415 Afghan Refugees. Huskers can help by making donations and volunteering to help introduce refugees to their new city, new neighbors and assist them with settling into their homes.

Sign up here to volunteer.

Questions?

Reach out to: info@refugeeempowerment.org

_____________________

Refugee Women Rising

Refugee Women Rising collaborates with refugee women to further themselves personally and professionally. Huskers can get involved in leading workshops for refugees and assisting the team with planning events.

Sign up here to volunteer

Questions?

Reach out to: bensonrefugeetf@gmail.com

_____________________

Restoring Dignity

Restoring Dignity is committed to bringing lasting change and hope to local refugees in the Omaha area. Huskers can get involved by making donations and volunteering to assist families with picking out furniture, assisting with sorting through donated items and providing office support.

volunteer@rdomaha.org

_____________________

Do you want more volunteer opportunities?

Huskers can find more volunteer opportunities anytime on Handshake.

Watch this video for how to find volunteer opportunities on Handshake.

For more information contact Andrew Brown within Student Leadership, Involvement, & Community Engagement at andrew.brown@unl.edu or 402-472-8721.
More details at: https://involved.unl.edu/