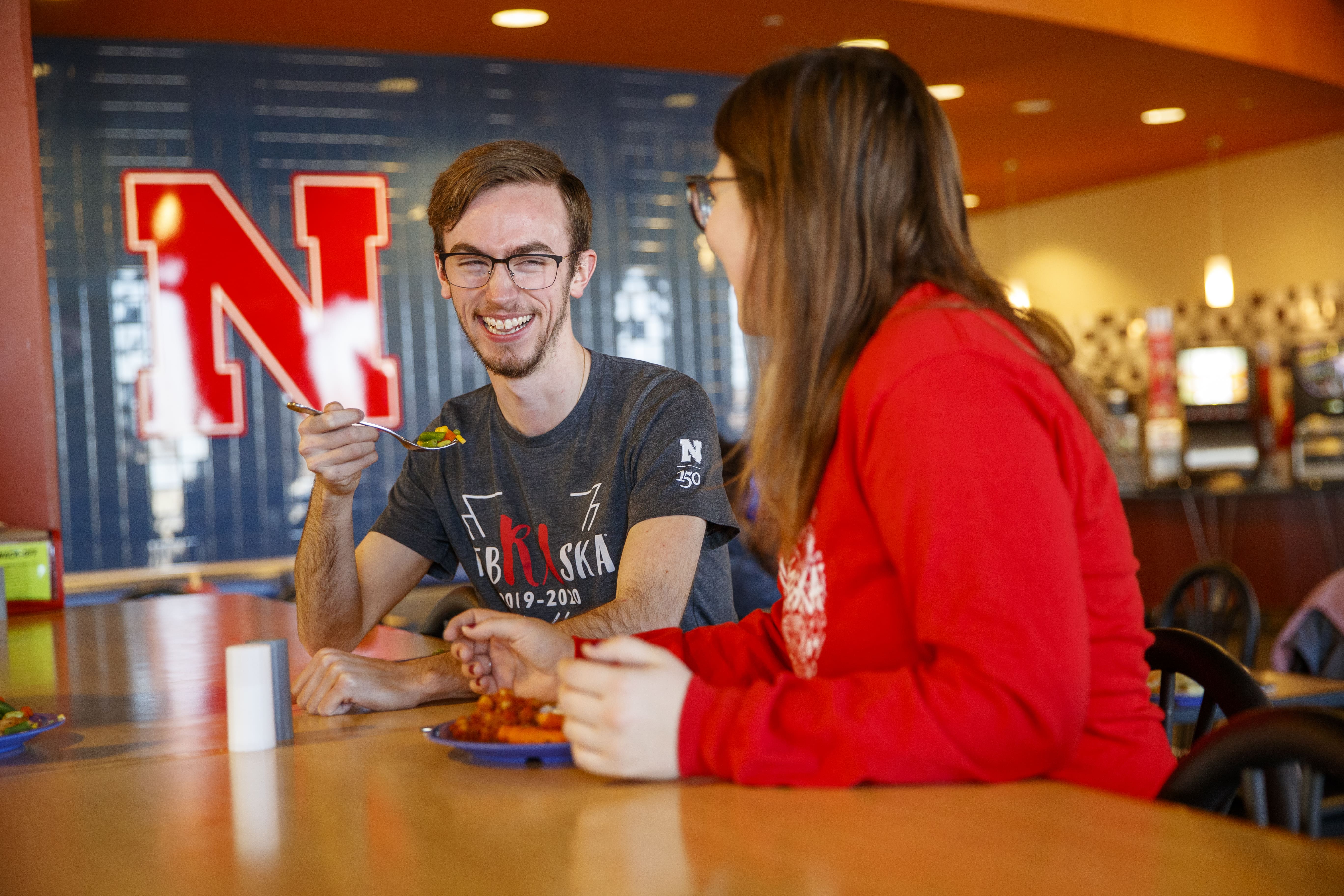 Each campus dining location has its own specialties and unique offerings. If you have a meal plan, you can choose from numerous dine-in and to-go options and locations.

But did you know that you don't have to live on campus to purchase a meal plan? Off-campus meal plans range from 50 to 125 meals per semester; plus, they include Dining Dollars that can be used through the Transact Mobile Ordering app. For those without a meal plan, guest pricing also is available.

ABEL DINING CENTER
As one of the more healthful destinations on campus, the Abel Dining Center is home to the fully vegetarian buffet line, Global Fresh. There are no fryers in this location, meaning nothing is fried, and often is oven-baked as a healthier alternative. To satisfy your sweet tooth, the dining center also is home to a hand-dipped Blue Bunny ice cream bar.

Husker Heroes, the on-campus sandwich shop on the first floor, is open until 11 p.m. This delicious late-night option is available via the Transact Mobile Ordering app.

CATHER DINING CENTER
The Cather Dining Center is one of the largest, and newest, dining locations on campus. The world's fare line is home to high-quality Asian cuisine including homemade egg rolls; prepared by a diverse, full-time staff representing many countries and nationalities including Africa, Japan, China, Vietnam, Nepal, Mexico and more. But save room for dessert! You won't find another location with as many options—the large dessert case with assorted treats will satisfy even the pickiest sweet tooth.

Conveniently located on the first floor is another Husker Heroes, a great to-go sandwich shop.

EAST CAMPUS DINING CENTER
As the only dining center serving a fully a la carte menu, the East Campus Dining Center in the Nebraska East Union is unique. Meal plan holders still can use their meal plan for a delicious spread that includes an impressive salad bar, freshly baked pizza and items fresh off the grill. The unique layout of the East Campus Dining Center also allows visitors to take meals on-the-go to better fit their dining needs.

HARPER DINING CENTER
The Harper Dining Center is home to the 8+ allergen-free line which serves items with no peanuts, tree nuts, shell fish, fish, soy, dairy, eggs, wheat, sesame seed or gluten. It's also the location of the only on-campus barbecue spot, Harper's Smokehouse, providing house-made sausages, brisket, pulled pork and ribs. Two excellent late-night options: Varsity Pizza, your on-campus pizza option; and Champion's Chicken, home to delicious late-night chicken baskets, make this a spot you'll want to visit again and again.

SELLECK FOOD COURT
Moxie's gluten-free café is the newest restaurant in the Selleck Food Court, and is the only gluten-free eatery on campus. Here you'll find some of the most unique eateries including Qdoba; Cold Creations, a smoothie connection for nutritionally dense meals on the run; and Grains & Greens, a great to-go fresh meal option. Looking for an all-day breakfast? Then Scarlet Skillet is the place for you.

Before you arrive, just be sure to place your order through the Transact Mobile Ordering app. Meal plan holders can use meal exchanges or Dining Dollars as payment in the app. However, if you don't have a meal plan, you can add a credit card. All set? Head on over to pull up a chair and settle in for a study session over your fresh, to-go meal.

HERBIE'S MARKETS
With six locations on both City and East Campuses, you're never too far away from an on-campus convenience store. Here you can use Dining Dollars from your meal plan to purchase necessities and sweet treats. Herbie's Markets are also home to Eat. Fit. Go. meals for healthful options on the run.

TAZZA COFFEE SHOPS
Featuring one-of-a-kind flavors and customized coffee and tea drinks, Tazza Coffee Shops offer that any time of day pick me up. There are two locations on campus, in the Knoll Residential Center and in the College of Engineering. Soon a coffee cart in the University Health Center will offer another convenient spot to grab a delicious cup of coffee on the go.