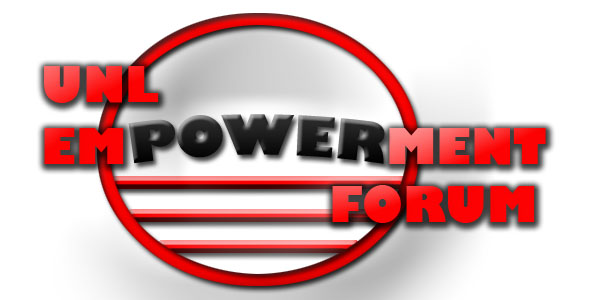 The 2011 UNL Empowerment Forum is quickly approaching.

This year's forum will take place 11 a.m. to 5 p.m. Jan. 28 in the Jackie Gaughan Multicultural Center. The Empowerment Forum is a free event open to all registered UNL students, faculty and staff with interest in discussing the challenges we face in dealing with diversity issues. We live in a world that is more culturally diverse than ever before. The ability to work and function in a diverse society has never been so important.

The focus of the Empowerment Forum is in understanding the "I" in diversity, and the "we" in empowerment. This is accomplished by creating facilitated dialogues among students, faculty and staff. The forum will provide an opportunity to discuss how UNL is working with diversity issues, and how we - both as a community as well as individually - can have a positive influence on UNL as it relates to diversity in its broadest terms.

The 2011 Empowerment Forum includes the following activities:

- A welcome speech by Matt Glowacki, professional speaker on diversity issues. You can find information on Matt at http://www.colemanproductions.com.

- Breakout sessions in small groups to discuss who are we; how does "I" fit into "we"; and what kind of world do you want to live in and contribute to?

- Action planning so that you can take what you learn and put it into practice

- Free lunch

Registration is now open for the 2011 Empowerment Forum at the website below.

http://stuafs.unl.edu/empower/index.shtml

There is no cost to attend this event.

We look forward to seeing you on January 28, 2011!

More details at: http://go.unl.edu/bnn