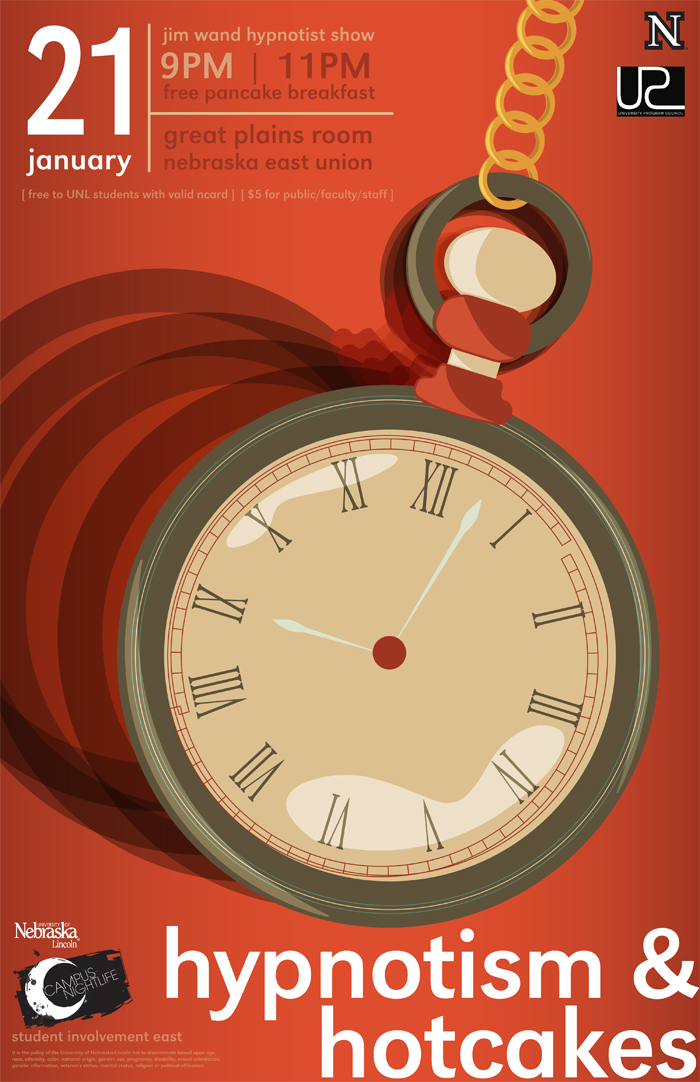 January 14, 2011 - The University Program Council (UPC) and Campus NightLife (CNL) present "Hypnotism & Hotcakes" on Friday, January 21, 2011 in the Nebraska East Union beginning with Dr. Jim Wand at 9:00 p.m. in the Great Plains Room, followed by a free pancake feed at 11 p.m. in the Union Café. This event will be free for UNL Students with a valid NCard and $5.00 for Public, Faculty, and Staff.

Dr. Jim Wand has been practicing hypnotism for over 20 years and is "one of the most professional hypnotic entertainers in the world today." (http://www.hypnotism.com/JimWand) Having visited 47 states, Mr. Wand has become a well-known entertainer for college students. Not only is he famous among the college crowd, Wand has also worked with celebrities such as Jay Leno, Chris Rock, Carrot Top, and Larry the Cable Guy and has appeared on T.V. programs such as "The Judge Joe Brown Show," the Discovery Channel, and Comedy Central.

The University Program Council (UPC) is a volunteer student organization designed to address the co-curricular, social, recreational, cultural, and educational needs of the campus. The University Program Council acts as the executive body responsible for the implementation of programs and activities funded by University Programs and Facilities Fees (UPFF).

The mission of Campus Night Life (CNL) is to provide a safe variety of on-campus activities that reach out to all University of Nebraska-Lincoln student communities and foster campus wide inclusiveness. Campus Night Life strives to provide consistent entertainment that recognizes and caters to the diverse UNL student population.

More details at: http://go.unl.edu/acb