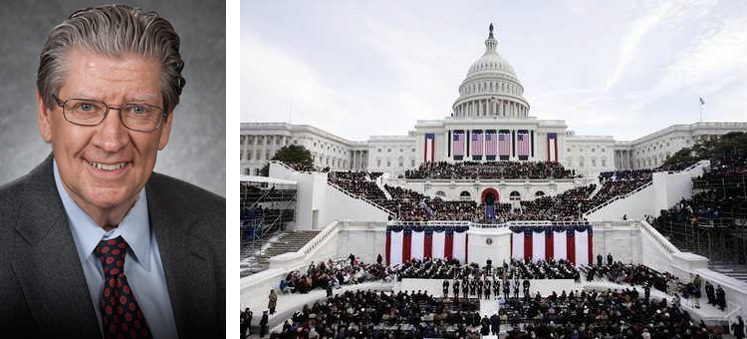 UNL's Richard Edwards has contributed an essay to a volume Congress prepared for presentation to President Barack Obama as part of the Jan. 21 presidential inauguration.

In "Homesteading the Prairie," Edwards, director of the Center for Great Plains Studies, drew on his research and writing over the past few years reexamining and reinterpreting the history of Great Plains homesteading.

Edwards' essay is part of a historical portfolio assembled by the Joint Congressional Committee on Inaugural Ceremonies of the U.S. Congress for presentation to guests, including President Obama, at the inaugural luncheon in the U.S. Capitol's Statuary Hall immediately following the swearing-in. The volume showcases 2013 as the 150th anniversary of important legislation and other significant events in the nation's history. Edwards was invited to contribute a 500-word essay on the Homestead Act, which became effective on Jan. 1, 1863.

Along with Mark Engler, superintendent of Homestead National Monument near Beatrice, Edwards led the 2012 Great Plains Symposium on the topic of "1862-2012: The Making of the Great Plains." He is also a principal, along with Engler, UNL Libraries Professor Katherine Walter and others, in a project to digitize and make publicly accessible the 30 million homestead records at the National Archives in Washington, D.C. The project recently celebrated its scanning of the 1-millionth image.

"Beyond historical interest," Edwards said, "the Homestead Act has a contemporary relevance because the federal government used its resources to reduce economic inequality. In today's context of drastically growing economic inequality, it provides a historical counterpoint. Mari Sandoz called it 'the hope of the poor man.' Columnist George Will enthused, 'Rarely has a social program worked so well.' And the left-leaning Center for American Progress named the Homestead Act one of its Top 10 Middle-Class Acts of Congress."

Although he was invited to the inauguration, Edwards said he will not be present to see the portfolio presented to President Obama.