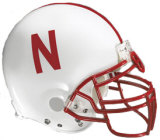 Student season tickets for the 2011 Nebraska Football home season go on sale beginning Monday, April 4. The 2011 home schedule features seven games including the season home opener on September 3 against Tennessee Chattanooga, Homecoming and the much anticipated Big Ten conference home opener versus Ohio State on October 8.

Student ticket prices for the 2011 season have not been raised - they remain at $21 per game - so the total cost for the student season tickets are $152 (which includes a $5 handling fee). Date of sign-up is determined by spring 2011 class status and tickets can be purchased online at http://www.Huskers.com beginning at 6:00 a.m. on the first day of each eligible sign up. Below is the schedule of days for which each class can apply:

Seniors and graduate students: April 4-6
Juniors: April 7-9
Sophomores: April 10-12
Freshmen: April 13-15 (currently enrolled for the 2011 spring semester)
Open to all fall full-time students beginning April 16

Seniors will be given first priority for seating in East Stadium by selecting their stadium of choice. East Stadium tickets will be sold until the allotment is exhausted. All students will know upon sign-up which stadium they have been assigned. Starting April 16, any individual planning to be a full-time student in the fall of 2011 may purchase tickets while quantities last. There is a limit of one student ticket per order. Students are allowed to purchase either one spouse or one dependent child ticket at full price, in addition to the student ticket. Documentation is required.

If charging tickets to a student account, the balance must be paid in full by June 12, 2011, to avoid cancellation of tickets. (Assessment of late payment fees will apply as per student account policy.) This option is only for returning students. Incoming freshmen and transfer students may only use the credit card option to pay for their tickets since their student accounts have not been activated.

Ticket pick-up will begin Thursday, August 25 between 8:00 a.m. and 5:00 p.m. at the Athletic Ticket Office, located in the Parking Garage at 625 Stadium Drive. Your current full-time student ID MUST be presented to pick up your ticket and presented with your ticket for entrance to all home games. Full-time registration status will be verified when the tickets are picked up and at the gate upon entrance to games.

Students are also reminded that the annual Red/White Spring Game takes place at 1 p.m. on April 16. Tickets are FREE for students but MUST be registered for in advance at http://www.Huskers.com. For questions, students can visit the student ticket page at http://www.Huskers.com/students or call the Nebraska Athletic Ticket Office directly at 472-3111.

ALSO, NEW THIS YEAR, an Early Bird Basketball Special! Students can order 2011-2012 Red Zone Men�s Basketball tickets with their season football tickets for $50! This Early Bird Special offer is ONLY good until JUNE 1. Red Zone tickets will be $55 for students who wish to wait to order tickets when they go on sale in August. When ordering football tickets you will be prompted to order basketball tickets if you wish. If you do not order football tickets, but would still like to order basketball tickets at the Early Bird Basketball Special offer, students can still order online at Huskers.com. While the basketball schedule is not complete, the Big Ten Conference will feature a nine-game home schedule including Michigan State, Ohio State and Wisconsin! Spouse and dependent child tickets may be purchased in August.

More details at: http://go.unl.edu/s5h