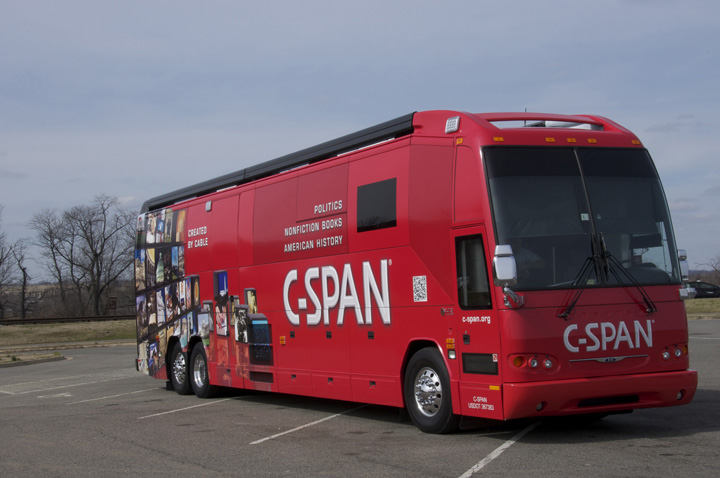 Please join us for a tour of the C-SPAN Bus Tuesday, Oct. 15 from 9:30 a.m. to 11:30 a.m. The bus will be parked in the Andersen Hall parking lot at 17th and Q Sts.

Whether you're a C-SPAN fan, serious about books, or simply curious about the technology, you'll leave the Bus informed, engaged, and more connected to public affairs.

The Bus is equipped with touchscreen computers that demonstrate C-SPAN's many websites, including the C-SPAN Classroom, Congressional Chronicle, and Book TV.

Test your knowledge of public affairs through quizzes or learn about StudentCam. Watch the latest C-SPAN programs in HD -- tune into live feeds of C-SPAN and C-SPAN2, catch new authors on Book TV, or view historical perspectives on American History TV on C-SPAN3.

In the "C-SPAN on the Go" section, download C-SPAN podcasts and the Radio App for iPhone, Android, and Blackberry. Use the laptops to connect with C-SPAN online by browsing C-SPAN's YouTube page, checking theTwitter feeds, and becoming a fan on Facebook.

The Bus is also equipped with a Smartboard and presentation area for discussions on the Video Library, C-SPAN Classroom, and other topics.

The C-SPAN Bus launched in February 2013 and the Local Content Vehicles officially launched in the summer of 2010. The C-SPAN Bus program began in 1993 with the C-SPAN School Bus.

Follow the C-SPAN Bus on Twitter @CSPANBus to stay up-to-date with their events.
More details at: http://go.unl.edu/qoor