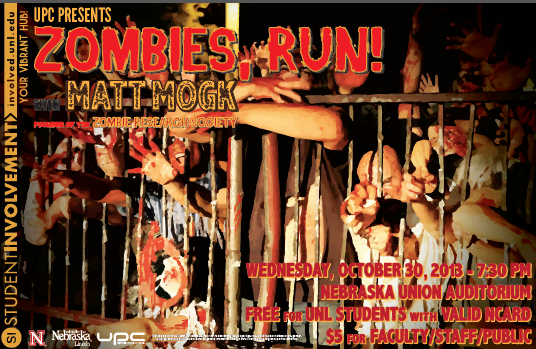 (LINCOLN, NE) October 15, 2013 – Whether or not the walking dead exist, isn't it better to be prepared? Matt Mogk, a global authority on all things zombie, tells us how to survive a zombie apocalypse in his presentation, "Zombies, Run!", which will take place on Wednesday, October 30, 2013 at 7:30pm in the Nebraska Union Auditorium. The event is sponsored by the University Program Council (UPC) and will be free for UNL students with a valid NCard. Admission will be $5.00 for faculty, staff, and the public.
Matt Mogk is the Founder and Head of the Zombie Research Society, which is comprised of over 60,000 zombie academics and enthusiasts on six continents, with dozens of local chapters worldwide. Matt Mogk is also the author of Everything You Ever Wanted to Know About Zombies, the most comprehensive zombie handbook ever written. He has been seen regularly on AMC's Talking Dead, giving survival tips, busting all the popular myths, and answering any and all questions when it comes to the living dead. He has also been featured on the National Geographic Channel, Spike's hit series Deadliest Warrior, and G4TV. Matt offers an interactive multimedia talk that includes essential information for survival in the face of the coming undead threat. His meticulously researched presentation is what zombie fans are desperate for, and what general audiences quickly realize they literally can't live without. What you don't know can eat you! For more information, please visit: http://zombieresearchsociety.com.
The University Program Council (UPC) is a student organization that provides diverse, educational and entertaining programs and events to enhance the UNL community. UPC acts as the executive body responsible for the implementation of programs and activities funded by University Programs and Facilities Fees (UPFF). For more information, please visit http://involved.unl.edu/upc or follow UPC Nebraska on Facebook and Twitter.

More details at: http://go.unl.edu/w3x8