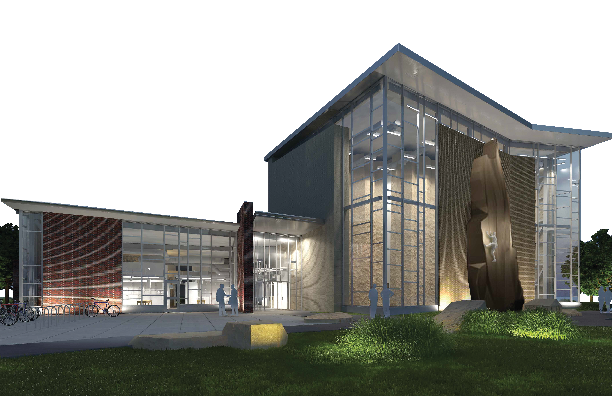 UNL students, faculty, staff, and the public are invited to a free Sneak Peek event in the new Outdoor Adventures Center. The event will run 2 to 6 p.m. Friday, May 2 prior to the facility's official May 5 opening. Staff will guide tours of the new center and attendees will have the opportunity to try the indoor climbing gym at no charge. The newly-constructed center is located at 930 North 14th Street on the northeast corner of 14th and W streets. Special event-only rates will be offered, including waiver of the $50 initiation fee for a month-to-month membership and weekend equipment rentals available at the single-day rate.

"We are excited to see this new building come to fruition and show the UNL community all that it has to offer. Students have been anticipating this facility for a while now and we couldn't be more proud to show it off," said Jordan Messerer, Assistant Director for Outdoor Adventures. "Our expanded bike shop, new climbing gym, classroom & conference spaces allow us to better serve our students, staff and community. UNL students will always be our primary focus, however we are open to the community and public too. The climbing gym is the largest of its kind in the Midwest U.S. and we are capable of outfitting the many pursuits of outdoor enthusiasts – biking, canoeing, paddleboarding, kayaking, winter sports, camping. You name it."

The Outdoor Adventures Center officially opens at 10 a.m. May 5. Open hours are 10 a.m. to 10 p.m. Sunday–Thursday and 10 a.m. to 8 p.m. Fridays and Saturdays. The new facility includes:

• a three-story outdoor climbing structure
• a large indoor climbing and bouldering gym
• an expanded campus bike shop
• outside bike lockers
• outdoor gear rentals
• headquarters for adventure trips, challenge course and
• Outdoor Adventures classes

The climbing gym temporarily opened on April 12 for its first event, the Flatland Climbing Competition. Professional climber Nina Williams joined more than 120 climbers at the annual competition that is part of the Collegiate Climbing Series Midwest regional finals. The entire facility is a project of the 'Yes 2 Better Rec Centers' referendum approved by UNL students on October 26–27, 2010. Students voted to appropriate student fees to improve the quality of the University's campus recreation facilities. Additional projects currently in progress are the new East Campus Rec Center (finishing in Summer 2015) and the expansion and renovation of the City Rec Center's Strength Training & Conditioning Room (opening August 2014).

Outdoor Adventures is a program within UNL Campus Recreation. The mission of Outdoor Adventures is to engage individuals and groups in adventure experiences for escape, enjoyment, and education. Campus Recreation is committed to enhancing the educational experience and promoting lifelong wellness through excellent recreation programs, services and facilities. For more information on the Outdoor Adventures Center or the Sneak Peek event, please contact Jordan Messerer at jmesserer2@unl.edu.
More details at: http://go.unl.edu/h43d