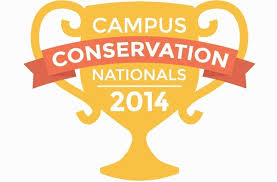 Lincoln, NE - Wednesday, April 23rd, UNL wrapped up its participation in UNL Unplugged, which was organized through Campus Conservation Nationals, a nationwide effort among colleges and universities to conserve electricity and water. From April 2nd to April 23rd students on campus competed in UNL Unplugged to achieve the greatest energy reduction in their residence halls. Although UNL increased its energy use by 15,000 kilowatt-hoursover the course of the competition, the leading resident hall, Fedde Hall, reduced their energy by a total of 21.8%. This was also the leading dorm for the Big Ten Unplugged competition that UNL was also participating in.

Students with the Association of Students of the University of Nebraska-Lincoln's (ASUN) Environmental Sustainability Committee (ESC) have spent the last few months organizing UNL's first participation in UNL Unplugged. Their work began in November, when ASUN unanimously passed legislation in support of ESC pursuing the project. Over the course of the project, they have met with representatives from UNL's administration, facilities, resident life and sustainability coordinator to pitch the idea and gain support.

UNL joined the ranks of close to 100 institutions nationwide that participated in this exciting building vs. building electricity reduction competition program. For this year's challenge, students organized in their dorms and online to demonstrate sustainable occupant behavior, proving that the buildings they live in do not need extensive renovation to be greener. Through various activities and events, as well as immediate feedback students at UNL showcased how we can all do our part to make a difference in the way our buildings consume electricity.

The competition kicked off with Energy and Conservation Trivia Night, on Friday, April 4th. Teams faced off in a test of their knowledge about energy on campus, locally, nationally and worldwide. The overall goal was to increase student awareness on current energy practices and issues so they know the importance of reducing energy.

Students were then invited to join in some fun with Dodge Ball in the Dark on Thursday evening, April 10th. Dodge ball consisted of glow-in-the-dark balls and glow sticks on the Union green space. This event allowed students to take part in an activity that didn't require the use of energy while enjoying some friendly competition.

To wrap up UNL Unplugged students raced around campus in the three day long Sustainable Photo Scavenger Hunt on April 15th, 16th and 17th. Students were able to show off different energy efficient practices they do in their daily lives, but with a clever, fun twist.

UNL Unplugged was made possible by sponsorship from Whole Foods Lincoln, SWE Energy, Open Harvest, Natural Grocers and UNL Resident Hall Association.

CCN is hosted by the Center for Green Schools at the U.S. Green Building Council, Lucid, a California-based software company, the Alliance to Save Energy and the National Wildlife Federation. UNL used Lucid's Building Dashboard® to compare performance, share winning strategies, and track standings. Final standings can be seen here: http://www.buildingdashboard.net/unl

About Lucid
Lucid is a privately held software company in Oakland, California. The company pioneered the concept of real-time energy and water use feedback and reduction competitions with Building Dashboard® and launched BuildingOS®, the world's first online operating system for buildings. BuildingOS quickly aggregates energy data from multiple vendors' metering and building systems into one unified source, giving building managers easy access to energy information and analytics. The intuitive cloud-based software eliminates vendor lock-in, dramatically reduces system integration costs, and enables building owners to implement and verify behavioral and operational efficiency improvements. Lucid's software is used by the world's leading companies and institutions.http://www.luciddesigngroup.com


Contact
To learn more about UNL Unplugged, please contact:

Reed Brodersen
Chair - ASUN's Environmental Sustainability Committee
reed.brodersen@gmail.com
(402) 450-7047

Julia Burchell
ASUN Environmental Sustainability Committee Member
UNL Unplugged Coordinator
jburchell22@gmail.com
(308) 233-1624

To learn more about the program, sign-up to participate next year, or follow leading schools, visit http://www.CompeteToReduce.org or follow CCN on Facebook and Twitter.