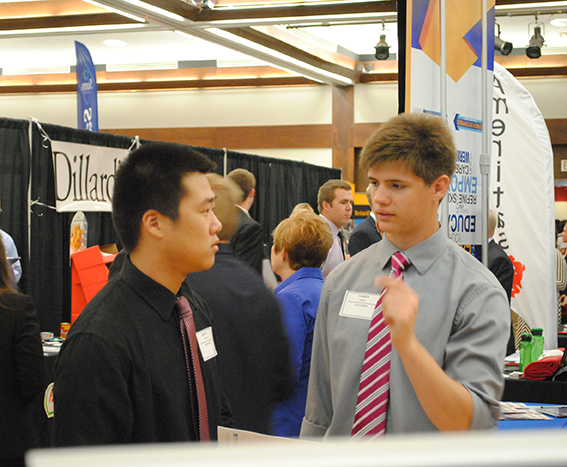 Underclassmen may attend career fairs to learn about potential careers and to prepare for future fairs. Although some employers may be more focused on hiring interns and graduates, others are interested in developing relationships with freshmen. Freshmen attending the fair should make a good impression as they may be meeting with their future employer.

Here are a few tips to make the most of the fair.

1. Research the Career Services website's list of employers to identify which employers to visit. Try to choose employers who may be less familiar names to increase your knowledge of careers and employers.

2. Plan what you will wear to make a good impression; we suggest dress slacks and a nice shirt.

3. Update your resume to show your college major and activities and bring several copies to the fair. Some employers may request a resume and this will show your preparedness.

4. A career fair consists of many employer booths. Some may have materials on a table while others may have more extensive displays. Give yourself plenty of time to circulate among the various organizations.

5. Consider what you will say to organization representatives. Your research of organizations should help you have some questions. A good starting point is with your own introduction, something like these:
• My name is Pat and I am a freshman computer science major. I am exploring career fields and would like to learn how computer science is applied in your organization.
• Hello, I am a freshman communications studies major and liked how your website was really clear in how you serve customers. Can you tell me more about the types of people you have working in your organization?

6. If you have not yet declared a major, a career fair is still a great way to learn about options. You might ask the organization representative about their own major and how they use it in that organization.

7. Remember that other students also want to visit with the employer, so politely thank the representative for their time. If you would like to follow up with the employer about future opportunities or information, request a business card from the representative.

8. Career Services and other campus staff are available at the registration areas to help you. Do not hesitate to stop by and ask them questions.

Although you are welcome to speak with any organization, below is a list of organizations who have agreed to be more open to meeting UNL freshmen. Visit the Career Services website for more information about the career fair and the employers.

Ag Valley Coop
AgReliant Genetics
Agrigold Genetics
Ameritas Financial Center
Aurora Cooperative Elevator Company
Black & Veatch
Buckle, Inc.
Burns & McDonnell
Cerner Corporation
ConAgra Foods
Conductix-Wampfler
Crete Carrier
DuPont Pioneer
Enterprise Properties, Inc.
ExxonMobil
Farm Bureau Financial Services
Federal Deposit Insurance Corporation (FDIC)
Garney Construction
Gavilon
Gordmans
GROWMARK
Hawkins Construction Company
Hayneedle
INROADS
InternNE
J. D. Heiskell Holdings, LLC
J. F. Ahern Co.
JBS Five Rivers Cattle Feeding
JEO Consulting Group, Inc.
Kawasaki Motors Manufacturing Corp., U.S.A.
Land O'Frost
Lincoln Electric System
Lone Creek Cattle Company
Marine Corps Officers
Nebraska Army National Guard
Nebraska Dept. of Ed. Vocational Rehabilitation Services
Nebraska Public Power District
Nelnet
Pen-Link, Ltd.
Sandhills Publishing
Saunders Construction, Inc.
Smithfield Farmland
Southwestern Advantage
Streck
Talent Plus, Inc.
Veyance Technologies
Vipa Solutions
Waddell & Reed


Click the link below to access this info on the Career Services webpage.

More details at: http://go.unl.edu/07u7