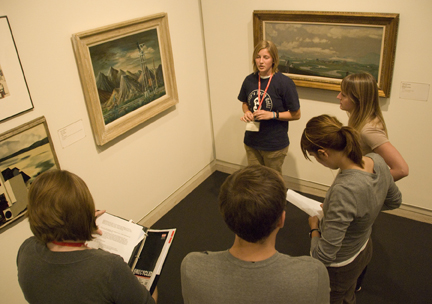 Sheldon Museum of Art at the University of Nebraska-Lincoln seeks student docents to give tours of exhibitions to college classes and community groups during the spring semester 2015.

Undergraduate and graduate students in all fields of study at UNL and area colleges and universities are invited to apply.

Student docents will meet for training from 3 to 4:30 p.m. on Fridays, Jan. 16, 23, and 30 and Feb. 6. They will attend introductions to new exhibitions, gallery talks by curators, field trips to other museums, and meet-and-greet events for visiting artists and lecturers. Students will gain valuable experience with inquiry-based teaching strategies, access to the arts for visitors with physical or cognitive disabilities, and the behind-the-scenes operations of an art museum. No previous experience is required.

For more information or to sign up for Sheldon's volunteer student docent program, contact Lisa Maurer at 402.472.4524 or lisa.maurer@unl.edu.

Sheldon Museum of Art, 12th and R streets on the UNL City Campus, houses a permanent collection of more than 12,000 objects focusing on American art. Sheldon is open free to the public during regular hours: Tuesday, 10 a.m. to 8 p.m.; Wednesday through Saturday, 10 a.m. to 5 p.m.; Sunday, noon to 5 p.m. The museum is closed on Monday. For more information, go to http://www.sheldonartmuseum.org.

More details at: http://www.sheldonartmuseum.org