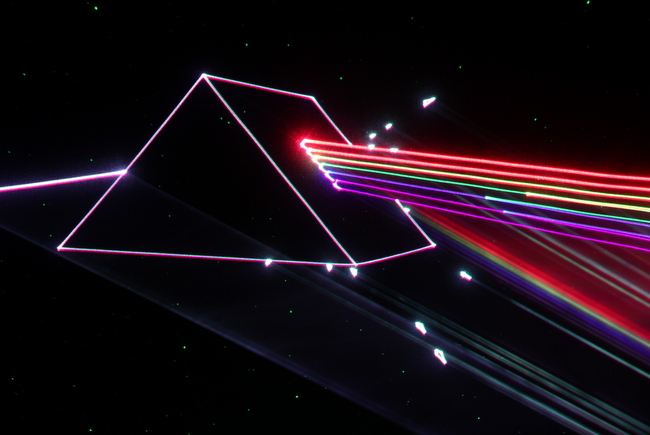 Laser graphics and abstract images will fill Nebraska's first fulldome digital projection theater in separate Halloween and rock shows. Guests are welcome to come dressed in their family-friendly costumes. Shows are select Friday & Saturday evenings in October on Halloween day Saturday, October 31. Visit http://www.spacelaser.com for complete show dates, times, ticket information, and more.

Halloween Laser Spooktacular (45 minutes). Get ready to mash with monsters in the Halloween Laser Spooktacular, a spellbinding sing-along featuring classic Halloween titles such as Monster Mash, Ghostbusters, and Purple People Eater along with a sprinkling of crowd-pleasing current pop and rock songs. Floating laser caricatures and animations of legendary Halloween personalities make for a fun time on an epic scale. Halloween has never looked so dazzling before - trick or treat!

Laser Pink Floyd: Dark Side of the Moon (48 minutes). Plunge into the deepest recesses of the Pink Floyd consciousness in Laser Pink Floyd: Dark Side of the Moon. Dazzling lasers transform this landmark album about greed, madness, and reality, into an intoxicating visual feast for the eyes. Over a million laser-generated hues and colors poetically express such timeless tracks as Money, Time, The Great Gig in the Sky, and Brain Damage. In short, during Laser Pink Floyd: Dark Side of the Moon, space and time cease to have meaning.

Morrill Hall is one block south of 14th and Vine streets on the University of Nebraska-Lincoln City Campus.
More details at: http://www.spacelaser.com