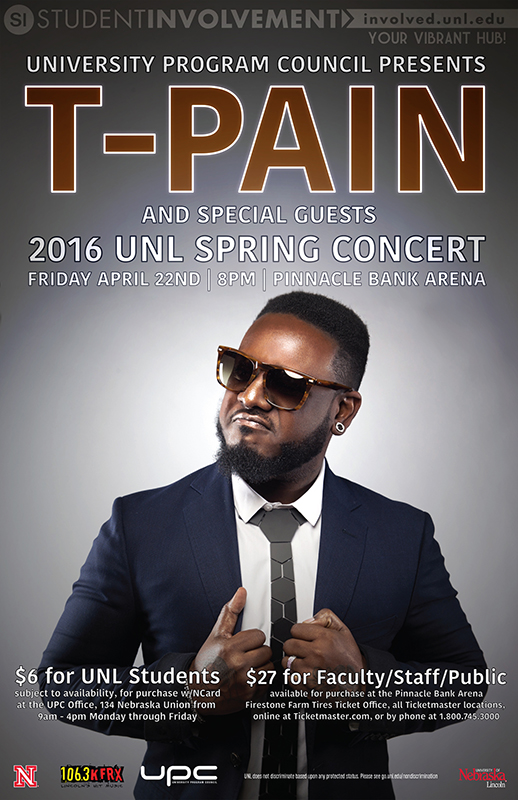 T-Pain will turn up the bass and treble on the Pinnacle Bank Arena stage on Friday, April 22, 2016 at 8:00pm for the annual University of Nebraska–Lincoln (UNL) Spring Concert sponsored by the University Program Council (UPC).

With 60 hit songs under his belt and two Grammy trophies on his mantle, Faheem Rashad Najm, best known as T-Pain, has cemented himself as one of the most influential artists of all time. Upon releasing his 2011 album rEVOLVEr, the "Rappa Ternt Sanga" took an abrupt, but well-deserved, break from the spotlight. But it wasn't to enjoy his spoils. His non-stop lifestyle was beginning to take a toll on his personal life and it was beginning to affect his creativity. "I was becoming somebody that I didn't like," he says. "I was living an unhappy lifestyle and it started affecting my family. I was hurting and scaring a lot of people." At the height of his career that included a popular smartphone app and a Super Bowl commercial, T-Pain decided to take a two year hiatus from releasing music. While that would be a career ender for other artists, it wound up being a second birth for T-Pain.

In the fall of 2013 a rejuvenated T-Pain returned with one of his biggest hits to date, the DJ Mustard-produced single "Up Down (We Do This All Day)" featuring B.o.B. After returning to his familiar spot in the top ten of the charts for 28 straight weeks and counting, he continued the comeback in 2014 going with the club smash "Drankin Patna." There are rumors that a new album will be released in 2016.

Faculty, Staff, and Public can purchase $27 General Admission tickets at the Pinnacle Bank Arena Firestone Farm Tires Ticket Office, online at ticketmaster.com, all Ticketmaster locations, or charge by phone at 1.800.745.3000. UNL Students can purchase $6 General Admission tickets, subject to availability, with a valid NCard at the UPC Office located in the Nebraska Union, 1400 R Street, Room 134, Lincoln, NE 68588-0465 from 9:00 a.m. - 4:00 p.m. Monday through Friday until 12 Noon on Day of Show, Friday, April 22, 2016.

- FACULTY/STAFF/PUBLIC GENERAL ADMISSION TICKETS: $27 (Subject to applicable fees)

- UNL STUDENT GENERAL ADMISSION TICKETS: $6 with valid NCard through the UPC Office (Subject to availability). UNL Student tickets can be paid by NCard or Cash only.

T-Pain Announcement Poster

Directions to UPC Office

The University Program Council (UPC) is a student organization that provides diverse, educational and entertaining programs to enhance the UNL community. UPC acts as the executive body responsible for the implementation of programs and activities funded by University Programs and Facilities Fees (UPFF). For more than 75 years, UPC has been providing entertainment for UNL students in the form of films, speakers, concerts and more! For more information, please visit: http://involved.unl.edu/university-program-councilor follow UPC Nebraska on Facebook, Twitter, and Instagram. Additional information can be found at http://www.PinnacleBankArena.com and http://tpain.com/.
More details at: http://go.unl.edu/i07e