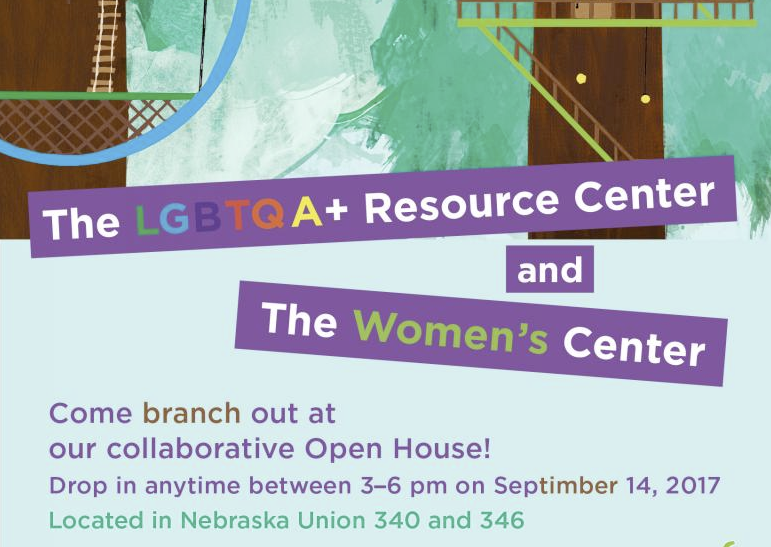 The Women's Center and the LGBTQA+ Resource Center are having an open house on Thursday, September 14, 2017 from 3:00pm –6:00pm. It will be located in Nebraska Union (1400 R Street) on the third floor. This is an event for students, staff, community members, and faculty to visit the centers, meet the staff members, and learn about our many resources and services.It is an open house, so come and stay as long as you would like. We will have great snacks and great community.

The Women's Center provides a safe environment within the University of Nebraska community to explore the changing roles of people of all genders, and advocates for gender equity. Services include free, confidential counseling, a resource library, and volunteer opportunities. Several student organizations are affiliated with the Women's Center, including Men @ Nebraska, PREVENT relationship violence prevention peer educators, Students with Children, and more. The Women's Center is located in room 340 of the Nebraska Union.

The LGBTQA+ Resource Center is an open and welcoming center that provides education, resources, and community. We have a library, a peer
mentor program, volunteer opportunities with The Change, and provide a variety of programming. We also work collaboratively with Spectrum UNL, OSTEM, and other organizations. We are located in room 346 of the Nebraska Union, and we would love to see you there!

The Open House is on September 14, 2017 at the Nebraska Union, third floor from 3:00 to 6:00pm. Everyone is invited to come and see what the LGBTQA Center and the Women's Center have to offer!
More details at: http://involved.unl.edu/