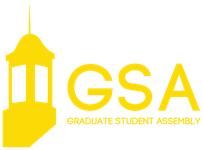 The GSA is proud to announce and congratulate the winners of Graduate Travel Student Award (GTAP) grants for Spring 2018:

• Aaron Hess, Earth & Atmospheric Sciences
• Srikanth Kodati, Plant Pathology
• Abhiteja Konda, Chemistry
• Azar Mohammad Abadi Kamarei, Earth and Atmospheric Sciences
• Bingnan Mu, Textiles and Fashion Design
• Carol Tscahmpl-Diesing, Communication Studies
• Ernest Tufuor, Civil Engineering
• Clarisse Warren, Political Science

Congratulations to this Spring's GTAP winners! We know you will represent UNL well at your upcoming conferences. Furthermore, thank you to the 17 faculty reviewers and 27 peer reviewers, all of whom served as volunteers.

More than 70 students applied for GTAP awards during this award period. Winners will receive either $400 for domestic or regional conference travel, or $600 for international conferences.

All undergraduate and graduate students in good academic standing who are presenting unique work at an academic conference or performance are eligible to apply for GTAP awards, which are given three times each year. Applications are each blindly reviewed by two peer reviewers and one faculty reviewer; awards are given to students whose work will best promote the University of Nebraska-Lincoln within the scholarly community.

The next GTAP awards will be given for academic travel during Summer 2018; the application window will open in late February; visit https://www.unl.edu/gsa/graduate-travel-awards-program-gtap for details on how to apply, or learn how to become a peer or faculty reviewer.

More details at: https://www.unl.edu/gsa