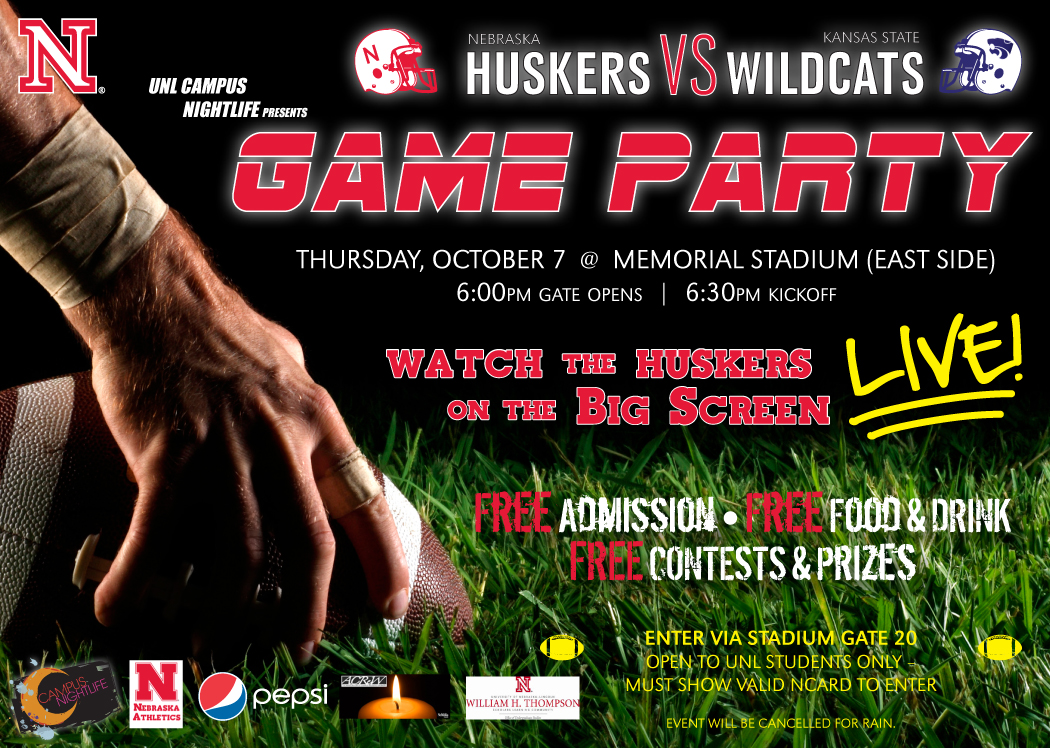 UNL Campus NightLife hosting NU vs. Kansas State Football Game Party

LINCOLN, NE – UNL Campus NightLife is hosting a Football Game Party for all UNL students on Thursday, October 7 at Memorial Stadium during the live ESPN broadcast of the Huskers vs. Kansas State Wildcats football game from Manhattan, Kansas. The party will open at 6:00pm with kickoff slated for 6:30pm. The NU vs. KSU Football Game Party is only open to current UNL students; attendees will need to show their N-Card ID to enter the party. Highlights of the party will be to watch the game on the jumbo screen and free food – including free pizza from Papa John's Pizza, free chicken from Raising Cane's, and free beverages from Pepsi. The Association of Campus Religious Workers (ACReW) will be providing sweet and salty snacks for the party. To further enhance the big crowd experience, Campus NightLife will host contests during commercial and quarter breaks and a larger contest during halftime. Prizes to be awarded.

"Thursday night football games on ESPN have become an exciting part of the college football watching season and we want UNL students to have a larger-than-life experience when the Huskers play on this particular Thursday night. It is one thing to sit in your residence hall room or apartment with a few friends; it is a completely different phenomenon to be with hundreds or possibly thousands other students watching on the huge screen – from within the stadium," says Reshell Ray, Associate Director for Student Involvement and Associate Director for East Campus Programs & Services.

UNL Campus NightLife's partners & sponsors for this event are: UNL Campus Recreation, Nebraska Athletics, Papa John's Pizza, Raising Cane's Chicken Fingers, Pepsi, and The Association of Campus Religious Workers (ACReW), and the William H. Thompson Scholars.

UNL Campus NightLife is a program of Student Involvement services that provides students on both city and east campus with free entertainment, activities, and food. The mission of Campus NightLife is to provide a safe variety of on-campus activities that reach out to all University of Nebraska-Lincoln student communities and foster campus-wide inclusiveness. Campus NightLife strives to provide consistent entertainment that recognizes and caters to the diverse UNL student population.

More details at: http://go.unl.edu/iej