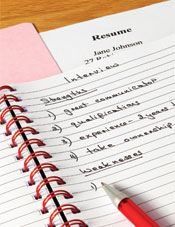 Wondering what goes on at a career fair and how to make the most of it? Get insider information from a panel of employers, then stick around to have your résumé reviewed one last time at the Career Fair Prep Night on Thursday, Feb. 2 beginning at 4 p.m.

A panel of employers will be available from 4 to 5 p.m. to discuss what they look for in prospective employees. Find out what to wear, what to bring and what to say to make your best impression.

The panel will include recruiters from:
• Nebraska Workforce Development
• Enterprise Rent-a-Car
• Sandhills Publishing
• Verizon Wireless
• Waddell & Reed
• Olsson Associates

Résumé reviews by employers as well as Career Services staff will take place immediately following the panel from 5 to 7 p.m. If you are unable to make it for the panel, you can still stop by to take advantage of the résumé reviews. Prep Night is sure to help any student be ready for the Spring Career Fair on Feb. 7 and 8.

More details at: http://go.unl.edu/prep_night