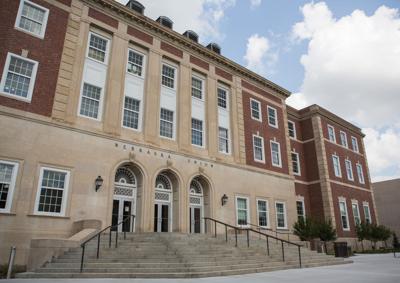 The five new names adorning rooms in the Nebraska Union are:

Platte River Room South (formerly Colonial A)
Platte River Room North (formerly Colonial B)
Chimney Rock (formerly Georgian Suite)
Seven Generations (formerly Meeting Room 212)
Four Winds (formerly Meeting Room 213)

"This is an exciting endeavor, as student leaders provided the momentum for these changes," Ryan Lahne, interim director of the Nebraska Unions, said. "The former names existed for over 80 years since the union's original opening in 1938 and reflected the spirit of that particular era. The Association of Students of the University of Nebraska approached the Nebraska Union staff about updating the room names to reflect the recent renovations and the expanded use of the union as a social and gathering space for today's students."

Student leaders from University of Nebraska Inter-Tribal Exchange, the Nebraska Unions Advisory Board and the ASUN Diversity and Inclusion Committee participated in researching and choosing the new names.

The Chimney Rock and Platte River rooms celebrate two of the state's iconic natural landmarks. Seven Generations and Four Winds honor the Native American cultures and heritage present in Nebraska. Seven Generations is a principle of connecting the past to the future, while Four Winds celebrates the interplay and importance of the seasons, elements, plants, animals and phases of human life.

The Platte River and Chimney Rock rooms have been outfitted with new brushed-silver metal lettering above the doors, matching the décor elements of similar recent renovations in the building. Additionally, the entrance alcove adjacent to the Chimney Rock room will be wallpapered with a floor-to-ceiling grayscale photo image of the renowned western Nebraska landmark. The Seven Generations and Four Winds meeting rooms have been marked with new room identifier signs.