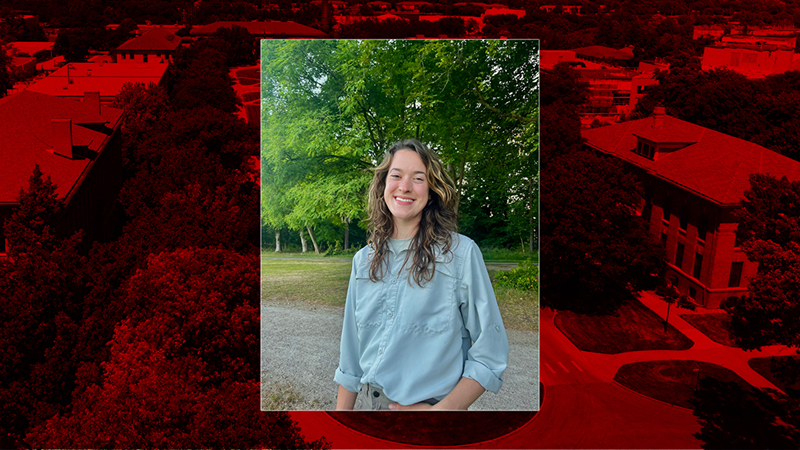 Hometown: Lincoln, NE

Major: Environmental Science and Fisheries & Wildlife double major

Anticipated Date of Graduation: December 2022

Why did you decide to come to the University of Nebraska-Lincoln?

When I first began my college career, I knew I wanted to be involved in natural resources work and environmental remediation research. I wasn't certain, however, what aspect of this field I wanted to work in. UNL's School of Natural Resources provided diverse opportunities in my field of interest and I saw the program as a great way to learn more about available career pathways.

What is your favorite thing about the University of Nebraska-Lincoln?

My favorite thing about UNL is the faculty, especially in SNR, that listen and support your goals in real ways. Many of the opportunities that I have been fortunate to take part in were in some way brought about by my advisors, professors, and supervisors at UNL. From there, I have been able to develop and refine my career goals and skills in ways I couldn't have imagined. I am incredibly grateful for the UNL team that helped me get where I am today!

What about diversity and inclusion is important to you when you think about your CASNR experience?

I think diversity and inclusion are some of the most significant strengths that CASNR brings to the table. During my four years at UNL, I have always felt welcome and a part of the community. Creating an environment that is so inviting to individuals from various backgrounds leads to our success. Exposure to cultural differences is a huge part of college.

What activity have you recently participated in that is different from what you are used to in your culture? This could be something you read, listened to, watched, eaten or otherwise taken part in. What did you learn from this activity?

Currently, I am taking part in an internship abroad at De Hoge Veluwe National Park in the Netherlands. One major issue in the park is excess nitrogen deposition leading to acidic soil and nutrient imbalance. With my position, I assist in data collection for a park-wide experiment testing how different tree species are able to improve soil fertility and acid buffering capacity over time. I also proposed soil field testing protocol, including tests for pH, nitrate, and electric conductivity, to quantify soil changes and improvement for the next 10 years.

While I have been involved in research on-campus throughout my college career, the opportunity to perform environmental research abroad has exposed me to new methodologies in the natural resources field. I've been able to learn about alternative acidity remediation strategies that I was not previously familiar with, such as rock dust application to increase buffering capacity. I've also been able to try local Dutch foods and learn some of the language.

From this experience, I've learned there are a multitude of ways to perform environmental experiments and its beneficial to take lessons and information from multiple perspectives to create the best protocol, field test, etc. I have also found the exposure to a new culture to be invaluable to my personal growth in addition to my professional development.

What is your favorite class you have taken so far and why?

My favorite class so far is my Wetland Biology class I took in Spring 2022. This classes provides an in-depth perspective on wetland processes with the opportunity for extensive field work. We visited many wetland sites in the Lincoln area, practicing wetland delineation and how environmental scientists carry out wetland and environmental remediation projects. For one field exercise, we worked closely with consultants with the Department of Transportation (DOT) and reviewed the programming applications they use and the delineation process they perform on their field sites.

Overall, I enjoyed learning more about wetland biology, types, and delineation with many opportunities for application of this knowledge in the classroom and field.

What are your plans post-graduation?

After graduation, I plan to first pursue a position as an environmental science consultant at a private company. I would like to be involved in wetland delineation and assist in remediation projects facilitated by engineering firms. I think my skills and experience are well-suited to this career path with my background in soil science and wetland biology. I will also likely complete my Master's degree in the near future after gaining experience in the private sector. I would like my graduate program to focus on water or wetland science.

What's life like outside of school?

Outside of school, I enjoy being outdoors as well! I spend my free time in city parks and, during longer breaks, take road trips to national parks near and far. Some of my favorites that I've driven to are Arches National Park in Utah, Glacier National Park in Montana, and Death Valley National Park in California. When I'm at home, I enjoy playing musical instruments individually or in a group, and can play the piano, cello, ukulele, clarinet, and I'm learning a few more!

More details at: https://snr.unl.edu/undergrad/meetourstudents.aspx