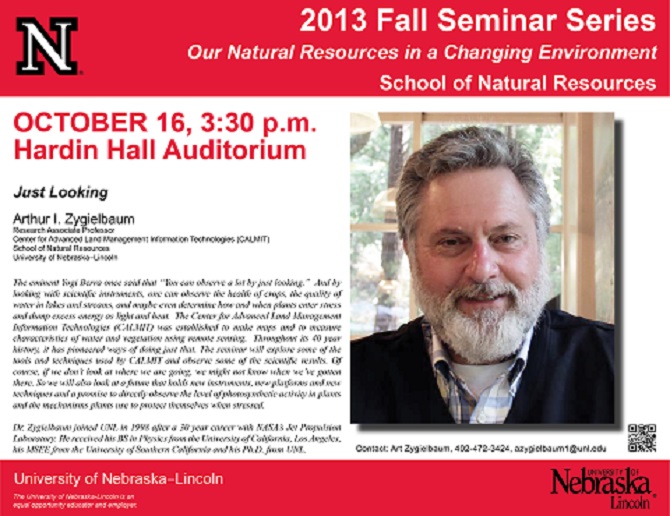 Art Zygielbaum, research associate professor, will present "Just Looking" at 3:30 p.m., Oct. 16 in the Hardin Hall auditorium. The seminar is free and open to the public.

The eminent Yogi Berra once said that "You can observe a lot by just looking." And by looking with scientific instruments, one can observe the health of crops, the quality of water in lakes and streams, and maybe even determine how and when plants enter stress and dump excess energy as light and heat.

The Center for Advanced Land Management Information Technologies (CALMIT) was established to make maps and to measure characteristics of water and vegetation using remote sensing. Throughout its 40 year history, it has pioneered ways of doing just that. The seminar will explore some of the tools and techniques used by CALMIT and observe some of the scientific results. Of course, if we don't look at where we are going, we might not know when we've gotten there. So we will also look at a future that holds new instruments, new platforms and new techniques and a promise to directly observe the level of photosynthetic activity in plants and the mechanisms plants use to protect themselves when stressed.

Zygielbaum joined UNL in 1998 after a 30-year career with NASA's Jet Propulsion Laboratory. He received his bachelor's degree in physics from the University of California, Los Angeles, his MSEE from the University of Southern California and his Ph.D. from UNL.
More details at: http://go.unl.edu/trda