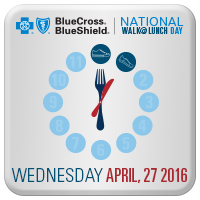 On April 27, Campus Recreation will host a 1-mile walk around city and east campuses from 11:30 a.m. to 1:30 p.m., as part of National Walk at Lunch Day. The city campus walk begins at the Campus Rec Center and the east campus walk begins at the Nebraska East Union. Participants may begin the walk at any time during the two-hour period.
The UNL community is encouraged to be a part of the movement to become an #ActiveHusker and walk for health by participating in this free national worksite wellness campaign. Visit with community wellness vendors and enjoy free giveaways while taking in the beauty of campus in the spring. Grab a friend or co-worker and add 20 to 30 minutes of daily activity to your routine.
The goal behind National Walk at Lunch day is simple: to encourage people of all ages and lifestyles to walk during the work day and to form healthy habits for a lifetime. Walking is one of the easiest and best forms of exercise. Blue Cross and Blue Shield insurance companies across the country conduct walks and carry out the program in their own states.
Pre-registration is encouraged. Sign up at: http://go.unl.edu/walk-at-lunch
If you have further questions, please contact Courtney Smith at csmith22@unl.edu.
More details at: http://go.unl.edu/walk-at-lunch