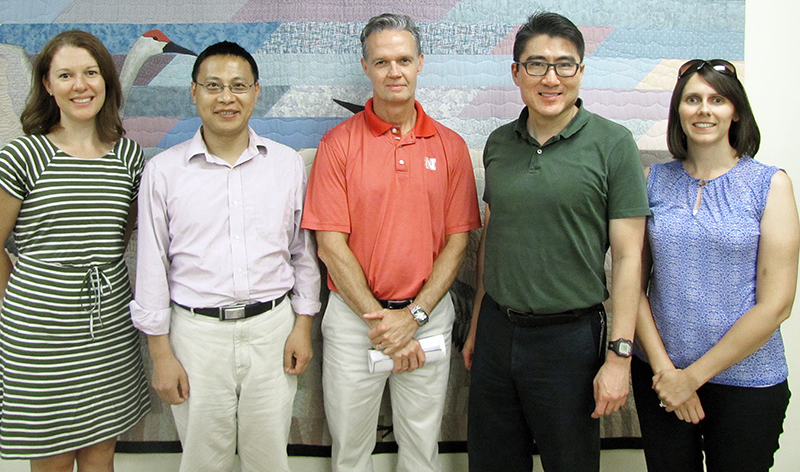 Shawna Richter-Ryerson | Communications associate

Climatologists Martha Shulski and Natalie Umphlett recently were awarded just over $200,000 to analyze climate data for cities planning for extreme and damaging weather events.

The grant from the NOAA Climate Program Office's Sectoral Applications Research Program will run through June 2018 and will focus on determining critical precipitation levels for municipal water resource management. It will target 10 cities in Missouri, Iowa, Nebraska and Kansas, four of the lower Missouri River Basin states.

"Multiple studies have shown that climate change will place a strain on local and regional air quality, food safety, illness and disease, mental health, and water quality and quantity," their proposal for the grant states. "Preparing an action plan is essential to protecting and serving the interests of the public."

Shulski, state climatologist and director of the Nebraska State Climate Office, said, "The time horizon for decision-making at the municipal level is long term. An understanding of recent historical changes and future weather and climate conditions is critical for informed management decisions and serving the interests of the public."

This project will build on another Umphlett and Shulski recently helped complete, "Climate in the Heartland," which provided city-specific climate projections for planning purposes to Lincoln; Iowa City, Iowa; Columbia, Missouri; and Lawrence, Kansas. The goal was to provide projections of weather conditions "anticipated to exceed historical bounds." Their analysis and data projections fill a gap that regional data sets can't provide quite simply because it isn't specific enough or in a form city planners can easily interpret and apply.

The new project, "Increasing the capacity for municipal climate adaptation planning in the lower Missouri River Basin states," targets communities across the lower Missouri River Basin. Some will receive surveys to help gauge the use of climate data, while others will be selected to participate in interviews and a workshop, said Umphlett, interim director of the High Plains Regional Climate Center.

Cities with reporting weather stations within 25 miles and climate data recorded for 60 years or more are considered good candidates for the project. Cities where climate-related programs already in place are considered viable partners. Umphlett and Shulski have spent the last month developing partnerships with viable cities and, so far, have signed on Dubuque, Iowa; St. Peters and Springfield, Missouri; and Hays, Kansas.

Next will be working with those communities to learn more.

"Many cities already have hazard plans in place," Shulski said. "We want to get an idea of what municipalities are using climate data already. How are they incorporating climate information? At what level are they planning?"

Beginning this fall, project personnel will conduct interviews and two-day workshops with city leaders to identify the thresholds associated with extreme climate event impacts in the water resources sector. For example, stormwater and sewer systems are built to certain specifications, Umphlett said. If there is an increase in heavy rainfall events, can the systems keep up? Does the city need to plan for the cost of larger sewer systems to accommodate flow and reduce health risks?

"Extreme events and a change in the frequency of events can prompt a need for a change in the infrastructure of a city," she said. It also can change how a city plans for public health crises.

Aiding in the project are Tarik Abdel-Monem, research specialist with the University of Nebraska Public Policy Center; Zhenghong Tang, Community and Regional Planning Program associate professor; and Frank Uhlarik, Lincoln Public Works and Utilities compliance administrator.

"Evidence of climate change is mounting every year," Uhlarik said about Lincoln's decision to collaborate on the project. "The City of Lincoln seeks to better understand the nature and extent of climate change effects we will face and how best to mitigate or adapt to those effects.

"While we and other Heartland communities received climate data projections through an earlier effort supported by the University, we want to stay plugged into ongoing efforts in the region so we can have first-hand access to valid regional data and collaborate with members of the Heartland Region of the Urban Sustainability Director's Network on appropriate policies and programs to implement," he said. "Finally, while climate change denial will hopefully be less and less prevalent in the public dialogue (though indications are it may be an election issue this Fall), nothing serves better to squelch this sort of thinking than to point to current and valid data."

The second year of the project will be dedicated to analyzing the information collected through the workshops and interviews; interpreting and creating climate projections; and creating usable tools for cities to use in their planning. HPRCC will disseminate climate analyses and templates to decision-makers, the scientific community and the public, through its website. Widely used federal climate datasets will be used for all analyses, standardizing the datasets used by Midwest cities planning to extreme weather events.

The final step will be evaluating the successes and complications of the project. The Bureau of Sociological Research at the University of Nebraska-Lincoln and project personnel will develop questions, complete surveys and use feedback to shape templates that additional municipalities can use as a guide to planning for climate issues, no matter the sector.

The hoped for outcome is that these cities band together, using one data source to create plans and work toward a more holistic approach to handling climate change impacts in the Midwest.

Banding together, after all, can inform policy and instigate change.

More details at: http://snr.unl.edu/