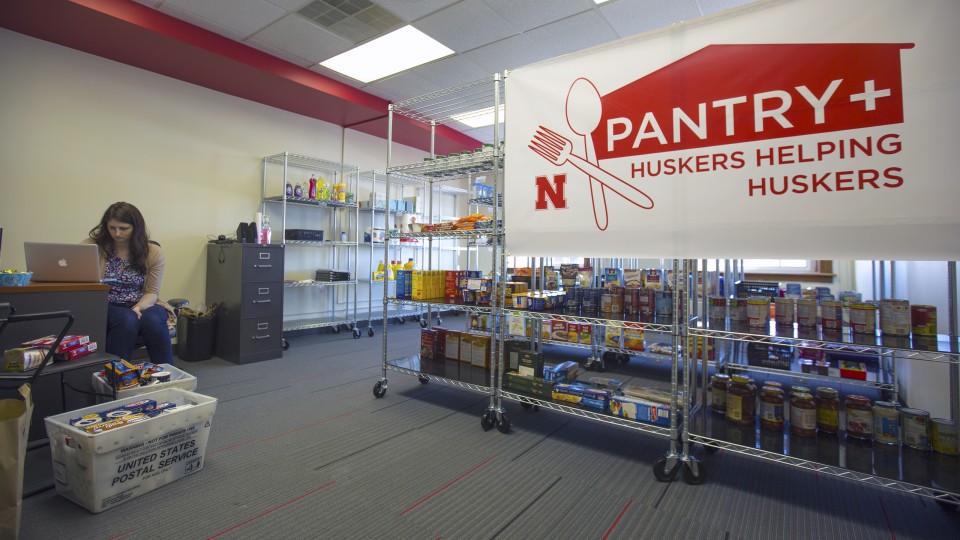 A grand opening for the University of Nebraska–Lincoln's new Huskers Helping Huskers Pantry+ was Jan. 9 in the Nebraska Union.

The new facility offers food, hygiene and other basic necessities alongside housing assistance and financial counseling — all for free — to Nebraska students in need of help. The pantry is organized by the Office of Student Affairs and managed through the Student Money Mangement Center.

The concept builds upon successes of Nebraska's Open Shelf pantry, which launched in 2013 through a partnership between Student Affairs and the university's Lutheran Center.

Read more about the Huskers Helping Huskers Pantry+ here.

Huskers Helping Huskers is located in the Nebraska Union Room 348.

Faculty, staff and students can donate directly or organize office/campus drives to collect pantry items. All donations can be left at the pantry during its open hours or in bins outside the pantry and by the information desk on the north side of the Nebraska Union. Hours of operation are: Monday, 8 a.m. to 6 p.m.; Tuesday and Wednesday, 8 a.m. to noon; Thursday, noon to 7 p.m.; and Friday, 1 to 5 p.m.

For more information on Huskers Helping Huskers Pantry+, click here.

More details at: http://pantry.unl.edu/welcome