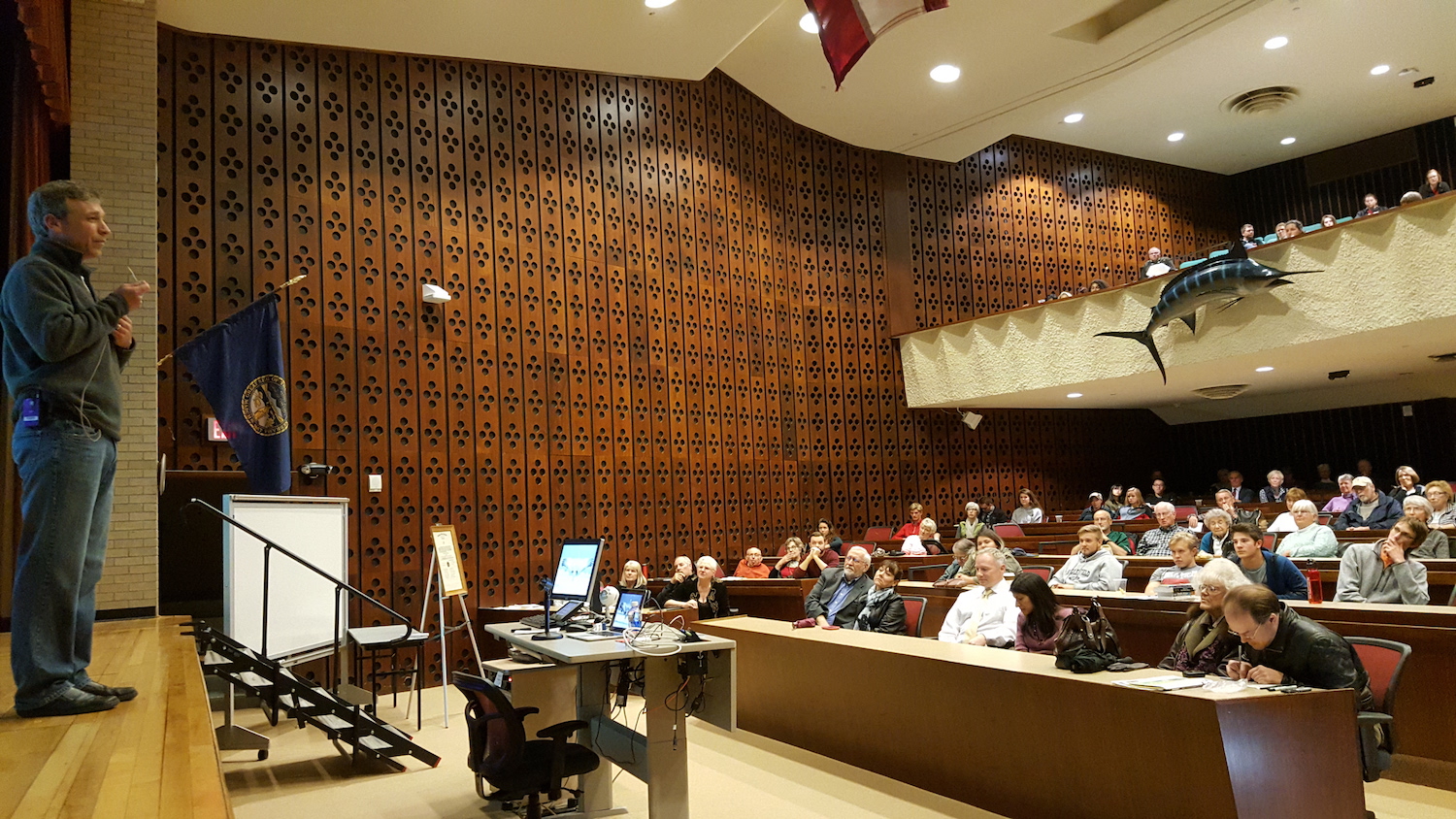 LINCOLN — Michael Forsberg, well-known conservation photographer and Nebraska native, delivered the annual 2017 Lavin Memorial Seminar to a packed auditorium Friday, April 28, in Hardin Hall.

His focus was on three of his long-term conservation-minded projects that have spanned the past 20 years. Those projects — the Sandhill cranes migration; the Great Plains; and the Platte Basin — examine conservation through continental, ecosystem and watershed levels respectively.

"Sandhill cranes are great ambassadors for wetlands and grasslands," he said, one of his photographs of Sandhill cranes on the big screen behind him. For years, Forsberg has photographed their migration on the Platte River, where up to 250,000 birds can land and overnight at one time. Their migration depends on stopover points such as the Platte River, and though they are common now, Audubon states, "their dependence on key stopover sites makes them vulnerable to loss of habitat in the future."

Forsberg, a University of Nebraska-Lincoln geography graduate, said his background in geography prepared him for his career in conservation photography. He also remembers having Lavin as a professor.

"I remember Steve as a talented geographer and cartographer who merged art and science," he said in an interview before the seminar. "He also was a very kind man with a big heart that was respected and loved by colleagues and students. I don't know if there is higher praise than that."

Ruth Lavin gave introductory remarks in honor of her husband during the fifth annual event. Steve Lavin spent three decades with the University of Nebraska-Lincoln's department of geography before he died of cancer in 2011. He was a specialist in cartography, well-known for his research on map design, cartographic communication and computer cartography.

"My field of study is adult education," she said. "There are three paradigms from where a research or writer comes from that are fundamental human interests."

They are:

Technical: Those whose interest seeks to make by applying scientific principles.

Critical: Those who seek to empower others through change (often legislation or rules)

Practical: Those with an interest in understanding the environment, not necessarily in changing it.


"Rather than making, this interest is closer to craft," Ruth Lavin said. "In looking at Steve's approach to his work in geography, I believe he demonstrates this third paradigm involving understanding the environment. Certainly cartography is exactly that: Attempting to communicate information through visual representation."

It was this philosophy, paired with his centeredness in his beliefs system, that grounded his work.

It was work that influenced many, said Paul Hanson, assistant director of the School of Natural Resources and a geographer.

Gamma Theta Upsilon inductees
The Gamma Theta Upsilon international geography honor society induction ceremony followed the Forsberg lecture. Twelve were inducted into the honor society.

They were:

Anna Brettman

Caylee Taylor Christensen

Luz Ramirez de Bryson

Tony Haas

Paul Hanson

Ashley Larsen

Karl Merchant

Steven Olson

Carissa Raymond

Nathan Sorsen

Cody Vitek

Liangzi Zhang
Shawna Richter-Ryerson, Natural Resources