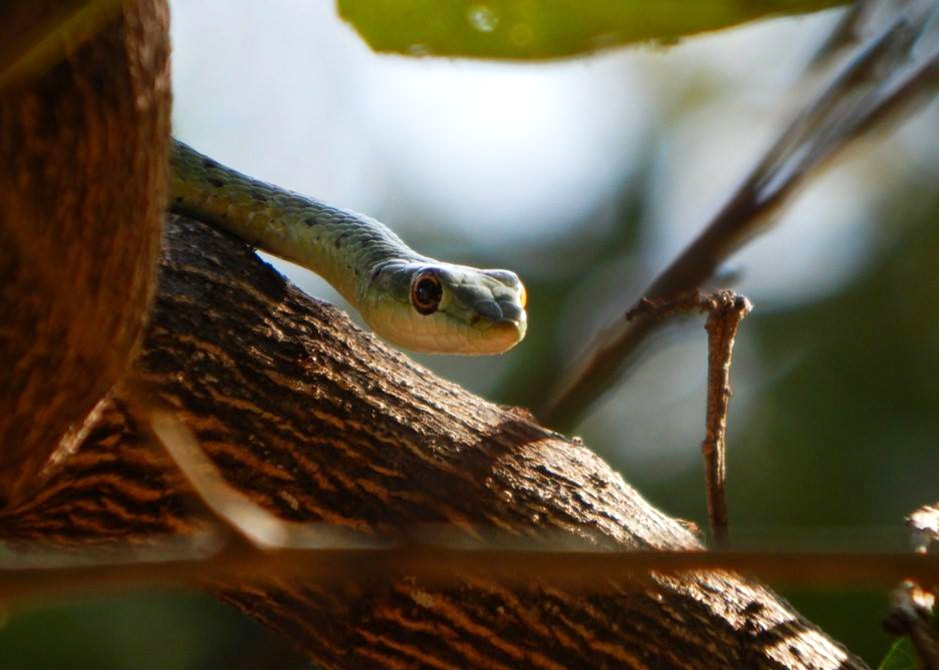 SNR student earns a win in Study Abroad photo contest

For Bethany Hollman, a study abroad trip this past summer to Botswana was an inspiration, but it turns out, it also earned her accolades at home.

The School of Natural Resources fish and wildlife major recently won the Art Alley category of the Education Abroad Photo Contest hosted by the University of Nebraska-Lincoln. Her photo shows a bright green snake slithering down a branch and peering into the camera with one yellow-rimmed eye.

The competition is designed to recognize students who have taken "exceptional photographs while participating in education abroad programs." The four contest categories are:


Huskers Go Global, in which the photo subject must be wearing university attire or demonstrating Husker spirit;

When in Rome, in which pictures should highlight a campus, everyday life, food or cultural experience unique to the study abroad location;

Oh, the Places We Go, which should highlight the culture, customs, traditions or excursions experienced while abroad; and

Art Alley, the catch-all category where individuals should show their creativity.


Initial judging was conducted by selected Nebraska faculty and staff members, and entries were evaluated on appeal, content and presentation of the education abroad experience. Three finalists from each category were chosen and then voted on through Nebraska social media channels.

The winners were announced Sept. 27 at an Education Abroad Returnee Ice Cream Social.


Berrick receives Shikar Safari Club Scholarship
Cat Berrick, fisheries and wildlife major at the School of Natural Resources, has been selected to receive a $4,000 Shikar Safari Club Scholarship from the Texas Game Warden Association. The scholarship recognizes high-achieving students currently involved in the studies of wildlife management, range management and law enforcement.

High achiever might be an understatement. Berrick, who has completed a UCARE project on Northern Long-eared Bat Activity, also is a Cabela's Apprentice and has worked wildlife and fisheries management jobs over summers. In her last year of school, Berrick is shifting her focus from wildlife conservation to fisheries.

"I feel very lucky to receive this award," she said. "I feel incredibly grateful to Dr. Mark Pegg for suggesting I apply for the scholarship, and appreciative to Mark and Dr. John Carroll for writing recommendations for me. The faculty in SNR truly care about their students; they are always rooting for us and doing all that they can to help students become successful."

The scholarship is given annually to students studying wildlife ecology or range management who have a pro-hunting point-of-view.

"Those involved in conservation biology understand the importance of hunting to manage wildlife populations," a key to healthy ecosystems, Berrick said. "I'm glad that the classes I've taken in SNR have given me the tools to discuss this both to a scientific audience and to those who aren't involved in STEM fields."

The Shikar Safari Club Scholarship is awarded annually to undergraduate and graduate students. Recipients must be active hunters with a minimum 3.0 GPA and good leadership abilities.

After she graduates, Berrick hopes to pursue a master's degree, possibly at the Universidad de Castilla-La Mancha in Toledo, Spain.

"I want to work outside for as long as I can, or at least until I get tired of it and my body is no longer able to handle the wear-and-tear," she said. Studying in Spain would "allow me to solidify my technical Spanish fluency and get me a step closer towards my goal of working in Central or South America."

Given her current record, she'll likely achieve that goal, too.

Larkin Powell earns CASNR Fellow
Larkin Powell, professor at the School of Natural Resources, earned the CASNR Fellow award Oct. 19 at the ninth annual honors banquet at the East Campus Union.

"This year we recognized Dr. Larkin Powell for his excellent contribution to the cause of undergraduate education, especially in the area of undergraduate research over the past many years," said John Carroll, SNR director, and Tiffany Heng-Moss, dean of the College of Agricultural Sciences and Natural Resources.

The award was instituted in 2009 and has been given out annually since. The nomination for the award is made jointly by the assistant director and CASNR Liaison to the University Honors Program, currently Dr. Madhavan Soundararajan of the Department of Biochemistry, and the dean of CASNR.

Previous recipients included, Dr. Jim vanEtten, Dr. Steve Baenziger, Dr. Merlyn Nielsen, Dr. Laura Damuth, Dr. John Markwell, Dr. Patrice Berger, Dr. Rita Kean and Dr. Angela Pannier.

"It's a pleasure to be a part of a college and a school in which undergraduates' contributions to research are valued so highly," Powell said. "Working with students keeps one young, and their enthusiasm for their research and desire to learn how our world works is contagious."

Natural Resources