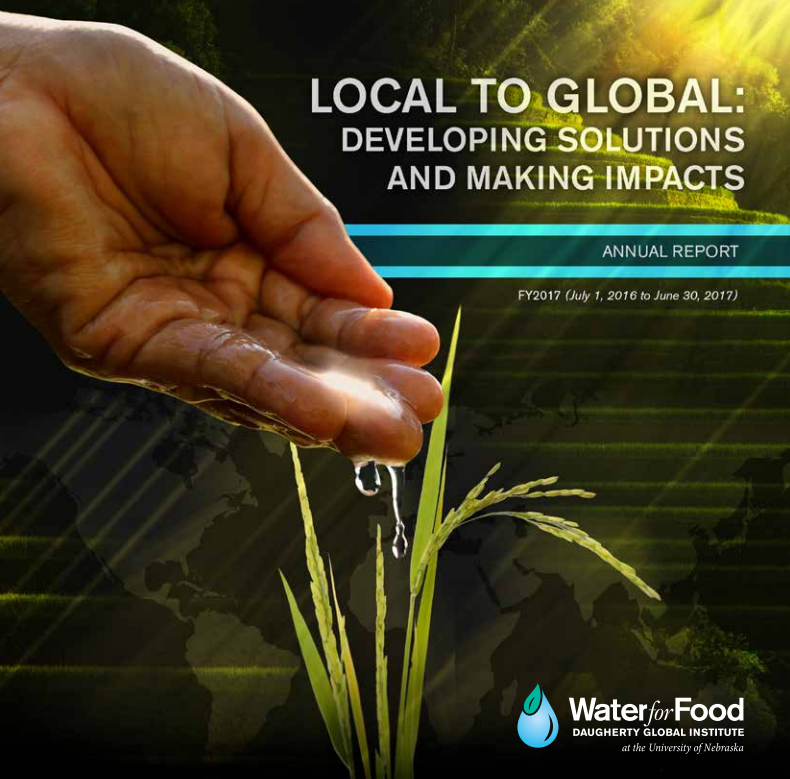 Now in its seventh year, the Robert B. Daugherty Water for Food Global Institute at the University of Nebraska and its many partners have worked to deliver tangible outcomes and impacts, both locally and globally, to help ensure a more water and food secure world.

In fiscal year 2017, the institute and its team of more than 100 Faculty Fellows from across the university system and Global Fellows from around the world, have continued to make contributions to water and food security from Nebraska to more than 70 countries in Africa, Asia, Europe, the Middle East and South America. We have worked alongside farmers, scientists, policymakers and communities; and leveraged partnerships with key national and international organizations, such as the World Bank, U.S. Department of Agriculture, U.S. Agency for International Development and the National Drought Mitigation Center at the University of Nebraska–Lincoln.

The institute's FY 2017 annual report is now available, highlighting recent outcomes and impacts achieved through collaborative initiatives and partnerships:


Closing water and agricultural productivity gaps

Improving groundwater management for agricultural production

Enhancing high productivity irrigated agriculture

Supporting freshwater and agricultural ecosystems and public health

Managing agricultural drought

Education and engagement

Communications


Together with our colleagues, DWFI has met benchmark success in these priority programs:

Developing a satellite-based global daily evapotranspiration product to address the Middle East and North Africa's water challenges and improve water productivity. Data gathered by the institute's satellite-based global daily evapotranspiration product will help inform water and crop management decision-making in the MENA region, one of the most tenuous and water-scarce areas of the world.

Expanding the Global Yield Gap Atlas expands into Indonesia, helping the country identify where significant gaps exist between actual and potential yields, providing data to enable context-specific solutions for water and food security in a country with excellent potential – and need – for improved agricultural productivity.

Increasing agricultural yields through precise Variable Rate Irrigation, through a project that combines Nebraska's irrigation engineering expertise, unmanned aircraft technology and satellite-based remote sensing to inform agricultural decision-making, resulting in more precise center pivot irrigation and cost savings.

DWFI's flagship event, the Water for Food Global Conference, drew 425 participants representing nearly 20 countries. More than 100 speakers and panelists shared cases studies, perspectives and solutions focused on the notion that global breakthroughs come from local action.


More examples of DWFI's recent projects and impacts can be found in this year's annual report, available here. To request a hard copy of the report, contact Amber Poythress at apoythress@nebraska.edu or (+1) 402.472.5175.

For more information about the institute, click here.

###

The Robert B. Daugherty Water for Food Global Institute at the University of Nebraska was founded in 2010 to address the global challenge of achieving food security with less stress on water resources through improved water management in agricultural and food systems. It is committed to ensuring a water and food secure world while maintaining the use of water for other human and environmental needs.

DWFI is one of four interdisciplinary, university-wide institutes that leverage talent and research-based expertise from across the University of Nebraska system to focus on complex state, national and global challenges. Learn more at waterforfood.nebraska.edu/.

Water for Food Global Institute

More details at: http://waterforfood.nebraska.edu/