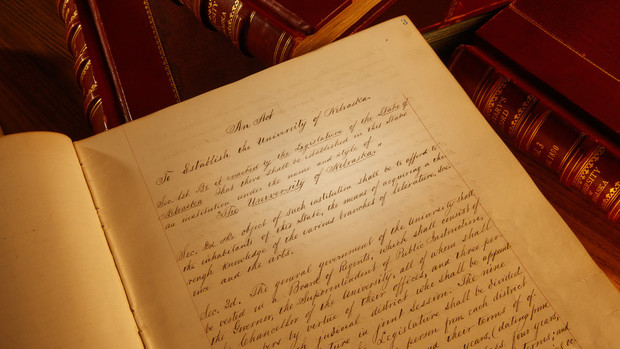 The University of Nebraska–Lincoln's weeklong, statewide celebration of its 150th anniversary continues through Friday with events celebrating the our past, present and future.

Charter Week events still to come include:


Feb. 13, 8 p.m.: A tribute from Pinnacle Bank Arena. The Husker men's basketball game against Minnesota will include a special halftime tribute that celebrates the university's 150th year. Tickets are sold out, but the game will be televised on BTN.


Feb. 14, all day: Glow Big Red. Huskers across Nebraska and around the world are encouraged to show their support for university by lighting, flying and wearing red — or giving some green.


Feb. 15, 10 a.m. to 2 p.m.: Charter unveiling, Wick Alumni Center. The public is invited to meet with Chancellor Ronnie Green, deans and dignitaries as they greet them and hand out N150 cupcakes. The festivities will include a "Dear Old Nebraska U" book signing; the university charter and other significant objects from the university's history on display; a University Hall model for viewing; opportunities for individuals to record the university's impact and/or fondest memory; an N150 photo; and a flag signing.


Feb. 15, 1 to 2 p.m.: Dairy Store event. Green will continue the day's celebration at the Nebraska Dairy Store with the launch of a new ice cream flavor, "Nifty 150."


Feb. 15, 7:30 p.m.: "Music and Milestones," Lied Center for Performing Arts. The celebration will feature songs from the past 150 years that tell the story of the university, including favorites such as "Dear Old Nebraska U." Music will be performed by students, faculty and distinguished alumni of the Hixson-Lied College of Fine and Performing Arts, Glenn Korff School of Music and Nebraska Repertory Theatre. Buy tickets.
Learn more about Charter Week at Nebraska and the N150 celebration.
Nebraska Today
More details at: https://go.unl.edu/e28j