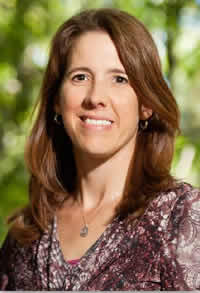 Andrea Faber Taylor, an expert on how being in nature contributes to children's health, will give a talk at 7 p.m., Tuesday, Feb. 21, in the Hardin Hall auditorium. Her talk is free and open to the public.

Taylor is internationally recognized as an expert on the benefits of "greener" environments for children. She is a researcher with the Landscape and Human Health Laboratory and an instructor in Horticulture at the University of Illinois in Urbana-Champaign. She has a Ph.D. in Natural Resources & Environmental Sciences from the University of Illinois.

Her diverse published findings include such benefits of nature for children as more creative play, greater concentration, and greater self-discipline. Her groundbreaking research on the benefits of nature for children with ADHD has resulted in extensive coverage in more than 100 national and international media outlets, including Science News, the British Medical Journal, Prevention Magazine, Psychology Today, Globe and Mail, Parents Magazine, the Chicago Tribune, and The New York Times.

Her research was cited as some of the key supporting evidence in Richard Louv's national bestseller, "Last child in the woods: Saving our children from nature deficit disorder," a book credited with sparking the national No Child Left Inside movement to bring children back to nature.

Taylor's visit is hosted by the College of Education and Human Sciences Children and Nature Interest Group and is sponsored by the College of Education and Human Sciences; Department of Child, Youth and Family Studies; Nebraska Center for Research on Children, Youth, Families, and Schools; Environmental Studies; and Department of Psychology.