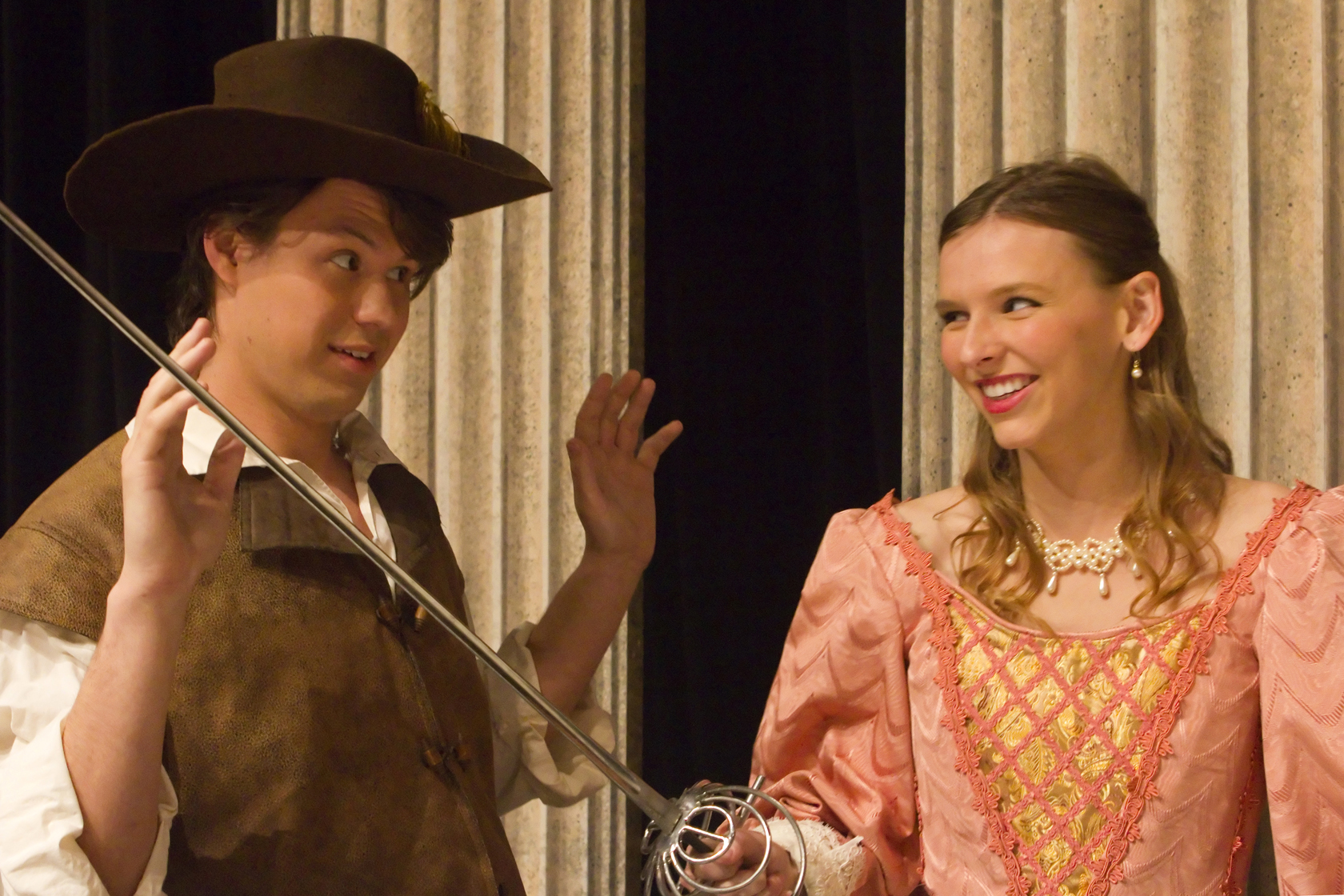 The University Theatre's production of "The Three Musketeers" opens Feb. 23 and continues through March 3 in the Howell Theatre on the first floor of the Temple Building.

Performances are at 7:30 p.m., Feb. 23-25 and 29, and March 1-3. Tickets for individual performances are $16 general admission; $14 faculty, staff and senior citizens; and $10 for students with a valid NCard. Season passes are also available.
The production features Ken Ludwig's adaptation of Alexandre Dumas' classic novel. The adaptation was commissioned by the Bristol Old Vic in England and premiered on Dec. 6, 2006.

It is 1625, and d'Artagnan, a young Frenchman sets off for Paris in search of adventure. With him is his sister, Sabine, the quintessential tomboy, who is to attend a convent school in Paris. Instead, she poses as d'Artagnan's servant, a young boy, and soon becomes entwined in d'Artagnan's escapades.

Soon after reaching Paris, d'Artagnan chances to meet the greatest heroes of the day, Athos, Porthos and Aramis, the famous musketeers. After stumbling into each of them and challenging them to duels, d'Artagnan joins with the musketeers to defend the honor of the Queen of France. This puts him into direct conflict with the most dangerous man in Europe, Cardinal Richelieu, and his henchman, Rochefort. An even greater adversary is the notorious Countess de Winter, known as Milady, who will stop at nothing to revenge herself on d'Artagnan and Sabine for their officious behavior.

The UNL production is directed by Ian Bolden.

"Doing 'The Three Musketeers' is a perfect marriage of play and theatre program, because the Johnny Carson School of Theatre and Film is the only university in the country with three Certified Teachers of Stage Combat as part of its faculty," Borden said.

UNL cast members are all undergraduates. Jordan Deffenbaugh plays D'Artagnan. The three musketeers are Calen Calero as Athos, Ryan Rabstejnek as Porthos, and Nick Wolf as Aramis. Hunter Larrison plays Cardinal Richelieu. Jen Hickey is Sabine and Catherine Dvorak plays Milady. Other cast members include Will Bennett, Dominic Ciafalo, Bryan Howard, Kristian Anderson, Shade Ingraham, Thomas Boyle, Cale Yates, Billy Jones, Patrick Stayer, Lauren Huston, Kayla Klammer, Reagan Lopez, Meghan Modrovsky, Christina Leonard, and Madison Smith.

The production is designed by Brandi Kawamoto (scenic), Beth Skinner (costumes), Clay VanWinkle (lighting) all graduate students, and Richard McDermott (sound) an undergraduate. The production features live music led by Vincent T. Learned and is stage managed by undergraduate Sara Beaman.

Tickets and season passes are available at http://carsonschool.unl.edu, the Lied Center for Performing Arts box office, by calling 402-472-4747 or 800-432-3231, or at the door one-hour prior to a performance. Seating is limited. Reservations are recommended.
More details at: http://go.unl.edu/o3n