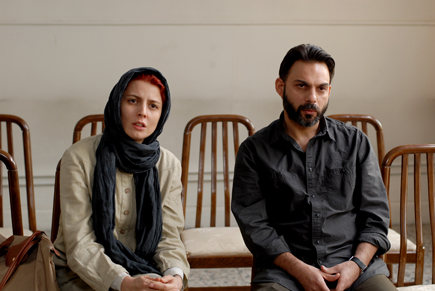 A movie talk on the Academy Award-winning film "A Separation" is 2:40 p.m., March 4 at the Mary Riepma Ross Media Arts Center. The talk, which is free and open to the public, will be led by Kim Jarvis, associate professor of history at Doane College.

The movie talk follows the 12:30 p.m. screening of "A Separation." Admission to the movie is at regular Ross prices.

"A Separation," rated PG-13 for mature thematic material, shows March 2-15 at the Ross. Also opening today at the Ross is the clandestine documentary, "This is Not a Film."

Set in contemporary Iran, "A Separation" is a drama about the dissolution of marriage. Simin wants to leave Iran with her husband Nader and daughter Termeh. Simin sues for divorce when Nader refuses to leave behind his Alzheimer's suffering father. When Simin's request fails, she returns to her parents' home and Termeh decides to stay with her father. During his wife's absence, Nader hires a young woman to assist with his father. He hopes his life will return to a normal state but discovers that the new maid has been lying to him.

"A Separation" received the Academy Award for Best Foreign Language Film.

"This is Not a Film" was shot partially on an iPhone and smuggled into France in a cake for a last-minute submission to Cannes. The documentary depicts the day-to-day life of director Jafar Panahi during his house arrest in his Tehran apartment. While appealing his sentence — six years in prison and a 20 year ban from filmmaking — Panahi is seen talking to his family and lawyer on the phone, discussing his plight and reflecting on the meaning of the art of film making.

"This is Not a Film" (not rated) shows through March 8 at the Ross.

For more information, including show times, go to http://www.theross.org or call 402-472-5353.
More details at: http://www.theross.org