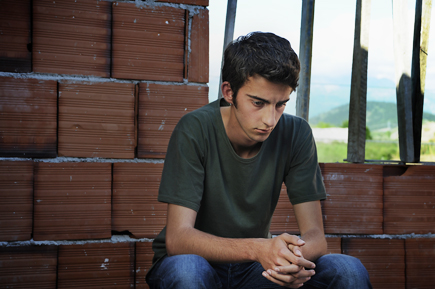 The drama "The Forgiveness of Blood" — which focuses on an Albanian family coping with a murder — opens today at the Mary Riepma Ross Media Arts Center. Also showing is the thriller "We Need to Talk About Kevin."

Both films play through March 29. "We Need To Talk About Kevin" is rated R; "The Forgiveness of Blood" is not rated.

"The Forgiveness of Blood," winner of the Silver Bear for Best Screenplay at the Berlin Film Festival, is a powerful feature directed by Joshua Marston. The film focuses on an Albanian family caught up in a blood feud. Nik (Tristan Halilaj) is a carefree teenager in a small town with a crush on the school beauty and ambitions to start his own Internet café. His world is suddenly up-ended when his father and uncle become entangled in a land dispute that leaves a fellow villager murdered.

According to a centuries-old code of law, this entitles the dead man's family to take the life of a male from Nik's family as retribution. His uncle in jail and his father in hiding, Nik is the prime target and confined to the home while his younger sister Rudina (Sindi Laçej) is forced to leave school and take over their father's business.

Working with non-professional Albanian actors and a local co-writer, Marston contrasts antiquated traditions with the lives of the young people whose future is put at risk.

"We Need to Talk About Kevin" is a Lynne Ramsay's suspenseful and gripping psychological thriller that explores the factious relationship between a mother and her son. Tilda Swinton plays the mother, Eva, as she contends for 15 years with the increasing malevolence of her first-born child, Kevin (Ezra Miller). Based on the best-selling novel of the same name, "We Need To Talk About Kevin" explores nature vs. nurture on a whole new level as Eva's own culpability is measured against Kevin's innate evilness.

For ticket information and show times, go to http://www.theross.org.
More details at: http://www.theross.org