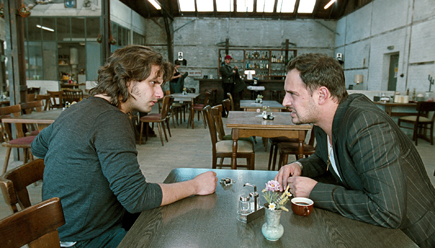 Director Fatih Akin's fresh, food comedy "Soul Kitchen" and the documentary examining the 2008 financial crisis "Inside Job" open Nov. 12 at the Mary Riepma Ross Film Theater.

With a one-week only run, "Soul Kitchen" is a delicious, free spirited story of food, friends and rock and roll. "Soul Kitchen" centers on a likable but hopelessly disorganized restaurateur, Zinos, whose cafe is the second home to a motley crew of lovable eccentrics. When his girlfriend Nadine suddenly moves to Shanghai, a love-sick Zinos decides to fly after her, leaving his restaurant in the hands of his unreliable ex-con brother Illias. Both decisions turn out disastrous.

"Inside Job" is the first film to provide a comprehensive analysis of the global financial crisis of 2008. At a cost of over $20 trillion, the crisis caused millions of people to lose their jobs and homes in the worst recession since the Great Depression. Through extensive research and interviews with key financial insiders, politicians, journalists and academics, the film traces the rise of a rogue industry, which has corrupted politics, regulation and academia. The movie was filmed on location in the United States, Iceland, England, France, Singapore and China.

A movie talk about "Inside Job" is scheduled for 4:40 p.m., Nov. 14 a the Ross. The talk follows the 2:50 p.m. screening. Admission to the screening is at regular Ross prices; admission to the movie talk is free.

Movie talk participants include Gordon Karels, chair of UNL's Department of Finance and the Nebraska Bankers Association College Professor of Banking; Tyler Mainquist, a former Wall Street firm member who is now a financial consultant with the Lincoln-based Thrivent Financial; and Les Manns, an economic professor at Doane College.

"Soul Kitchen" shows through Nov. 18; "Inside Job" will be at the Ross through Nov. 25.

For more information, including ticket prices and show times, go to http://www.theross.org or call 472-5353.
More details at: http://www.theross.org