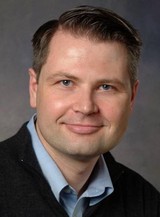 "Understanding HIV Transmission Utilizing Transmitted/Founder Viruses," will be presented by Brandon Keele of SAIC-Frederick Inc. as the Biotechnology/Life Sciences Seminar Series. The seminar begins at 4 p.m., preceded by a reception at 3:30 p.m., in Beadle Center room E103.

The seminar is a free public event.

Genetic diversity is significantly reduced from donor to recipient during HIV-1 transmission, according to Keele. For the vast majority of mucosal transmissions this genetic bottleneck is so severe that only a single individual transmitted lineage can be identified in blood plasma during acute infection.

Generating infectious molecular clones from various transmitted viruses has confirmed CCR5 utilization with a general lack of macrophage tropism. Additionally, nonhuman primate models have been developed to more precisely mimic the essential features of HIV-1 transmission.

Utilizing both SIVmac251 and SIVsmE660 isolates, protocols and inoculum concentrations have been developed for rectal, vaginal and penile infections where most animals were infected with one or few viral variants. Again, infectious molecular clones were generated from these transmitted SIV variants. Reintroduction of each clone into naive rhesus macaques revealed similar replication profiles and pathology seen in the initial animals.

Future use of molecularly defined, pooled clonal viruses could be useful in elucidating the earliest events in viral transmission and could improve consistency and reproducibility of vaccine efficacy trials in NHPs.

More details at: http://go.unl.edu/7cz