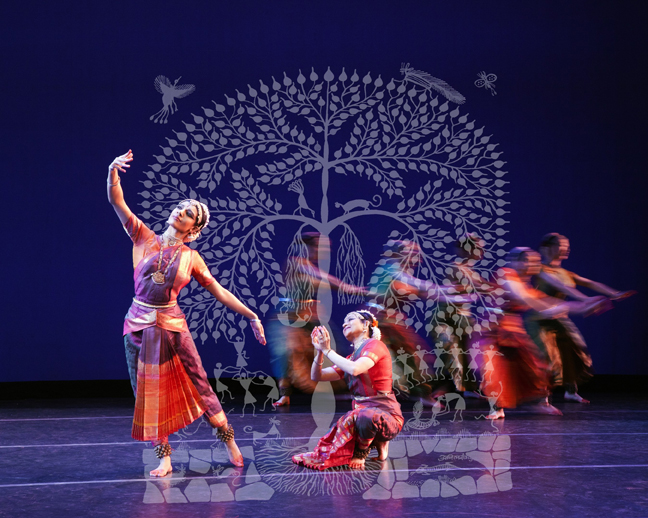 Classical Southern East Indian and contemporary dance meld together in an amazingly visual performance with Ragamala Dance at the Lied Center for Performing Arts at 7:30 p.m. April 11.

World-class dancers and original music create an immersive cultural experience as Ragamala celebrates life as an eternal cycle in its new work, "Sacred Earth."

Acclaimed as one of the diaspora's leading Indian dance ensembles, Ragamala Dance seamlessly carries the south Indian dance form of Bharata Natyam into the 21st century. While deeply rooted in this classical tradition, Ragamala's artistic directors integrate innovative ideas and collaborations into their choreography to convey a style of dance that is contemporary and distinctly current.

Bharata Natyam is a classical style of Indian dance that dates back to 1000 B.C. Inspirations for its fluid motions come from the ancient Hindu temple of Chidabaram. "Sacred Earth" brings two rich and ancient Indian visual art traditions, Warli paintings and Kolam rice flour drawings, into a conversation with Bharatanatyam dance. Performed against large-scale painted panels by master folk artist Anil Chaitya Vangad, "Sacred Earth" illustrates the ephemeral nature of our existence and celebrates the ongoing, ever-renewing cycle of life.

Ragamala Dance features soloist Aparna Ramaswamy, whom Dance Magazine described as "both iconic and explosive … infusing the formal rigor of Bharatanatyam with fluid spontaneity and rock star allure." In 2011, the Minneapolis Star-Tribune named the mother-daughter choreographer duo of Aparna and Ranee Ramaswamy "Artists of the Year."

This cultural sensation has been critically acclaimed across the country. "(Ragamala) shows how Indian forms can provide some of the most transcendent experiences that dance has to offer. This is an excellent company," wrote the New York Times.

Tickets are $29 and can be purchased at http://www.liedcenter.org, by calling 402-472-4747 or in person at the Lied Center, 301 N. 12th St. A pre-performance talk by Ranee and Aparna Ramaswamy will begin at 6:45 p.m. in the Lied's Steinhart Room.

Ragamala Dance will also offer a dance workshop from 5:30 to 7 p.m. April 10 in 304 Mabel Lee Hall, 14th and Vine streets, sponsored by the University Program Council and the Lied Center.

The workshop will consist of three components: lecture, interactive demonstration and private performance. The Ragamala cast will provide attendees with an understanding and appreciation of South Indian dance that reflect the multicultural world in which we live. Reservations can be made through the UPC website at http://involved.unl.edu/lied-center-arts-all-program.

More details at: http://go.unl.edu/u5h