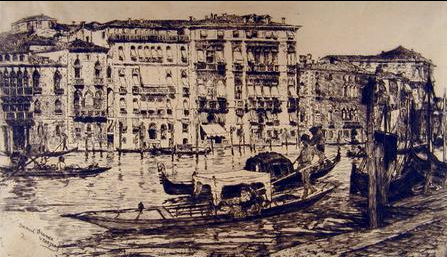 The Sheldon Museum of Art is offering a tourist's view of Italy in the new exhibition, "Voyage to Italia: Americans in Italy in the 19th Century," open through Sept. 5.

Italy has historically been a destination for American travelers, especially in the 19th century. They overran Rome and Florence, hunted for picturesque vistas on the Bay of Naples, and thrilled to ancient ruins and stories of the Caesars. The travelers went as artists, writers, social reformers and ordinary people. And, their experiences have become part of the American culture.

"Voyage to Italia" explores the journeys taken by these tourists and travelers. The exhibit includes medieval, Renaissance and Baroque artworks like those sought by Americans. Works are primarily by American artists who were inspired by Italy's tradition of art and beautiful landscapes. The selections include observations from traveler journals, their letters and tourist snapshots.

See a slideshow featuring works in the exhibition at http://go.unl.edu/o3x. A podcast with curator Genevieve Ellerbee is available at http://go.unl.edu/wqi.

For more information, go to http://www.sheldon.unl.edu.

More details at: www.sheldon.unl.edu