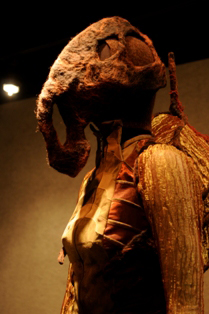 A collection of apparel inspired by prehistoric reptiles is on display at the Robert Hillestad Textiles Gallery through Dec. 3. A public reception for the artist, Tacia Booton, is 5 to 7 p.m., Dec. 3.

The "Saurian Decay" exhibition is the thesis project of Booton, a graduate student in the Department of Textiles, Clothing and Design. Using a diverse mix of materials, Booton created garments that conjure reptiles of land, sky and sea.

The collection invokes physical attributes of specific paleontological vertebrate species and includes a visual interpretation of the saurian life cycle. Booton uses a variety of techniques; including tying machine lace and an additive and subtractive applique process reflect interpretations of skin.

Decomposition is suggested through processes of felting over hand-sculpted structures as well as through distressing, couching, and scouring. The final resting state is interpreted through draped geometric shapes and the promise of movement. Reincarnation of saurian creatures was influenced through visual and verbal depictions and was interpreted through sculpting, layering and utilizing networks, units and color mapping.

The gallery is on the second floor of the Home Economics Building. Hours are 8:30 a.m.-4 p.m. Monday-Friday and by appointment. Admission is free.

More details at: http://go.unl.edu/8gu