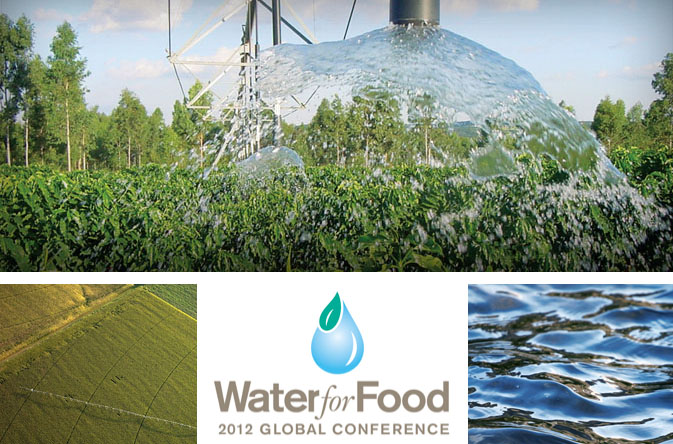 More than 40 speakers from around the world will offer diverse perspectives at the fourth global Water for Food Conference, May 30-June 1, in Lincoln.

Hosted by the Robert B. Daugherty Water for Food Institute at the University of Nebraska and the Bill & Melinda Gates Foundation, the conference is free to University of Nebraska faculty, staff and students who register. Advance registration is strongly encouraged. Registration information, speaker bios and the latest schedule information are available at: waterforfood.nebraska.edu/wff2012.

Speakers range from industry representatives and scientists to farmers and international policy experts.

Plenary speakers include:

• Malin Falkenmark, senior scientific adviser, Stockholm International Water Institute, Sweden.
• Colin Chartres, director general, International Water Management Institute, Sri Lanka. IWMI won this year's World Water Prize.
• Benedito Braga, vice president, World Water Council, Brazil.
• Ruth Meinzen-Dick, senior research fellow, International Food Policy Research Institute.

Three panel discussions promise to provide diverse perspectives on water and food security:

• The Industry Leaders Panel, moderated by Jeff Raikes, CEO of the Bill & Melinda Gates Foundation, will feature representatives from Elanco, IBM, John Deere, Monsanto and Pioneer Hi-Bred.
• The Water, Women and Food Panel, moderated by Simi Kamal, chair and CEO of the Hisaar Foundation in Pakistan, will explore women's vital role in water, agriculture and food.
• The Agricultural Producers Panel, moderated by Mark Gustafson, director of UNL's Engler Agribusiness Entrepreneurship Program, will provide perspectives from farmers from several countries.

Technical sessions and case studies will focus on:

• Groundwater Resource Assessment in Water-Stressed Regions: Past, Present and Future.
• Emerging Crop Technologies for Improving Performance in Tough Environments.
• Innovative Water Governance in Nebraska and Brazil.

Faculty, staff and students can also the follow the Daugherty Institute on Twitter at twitter.com/waterforfood (conference hashtag: #water2012) or Facebook at facebook.com/waterforfoodinstitute.

More details at: http://go.unl.edu/htp