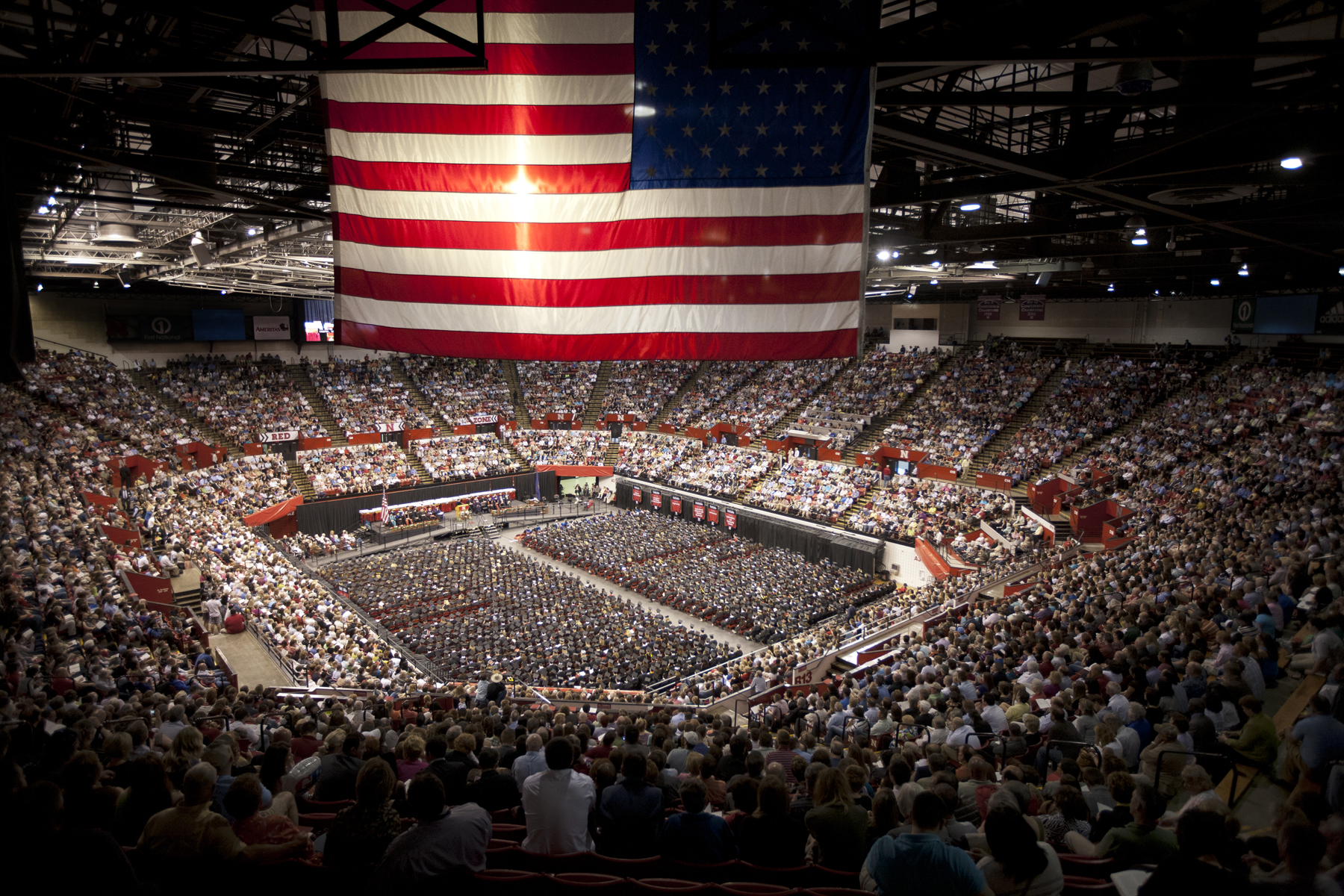 A record number of degrees will be awarded during UNL's commencement exercises on May 4 and 5. And the final tally — more than 2,860 at last count — is a bit of a shock for workers in the Registration and Records office.

"Last year's total of 2,663 was the biggest ever, and we thought this year would be on par with that figure," said Jennifer Verhein, assistant director of registration and records. "When degree applications peaked at more than 3,000, we all started to feel a bit faint."

There's no definitive reason for the degree uptick, but the working theory is that retention efforts have played a key role. Verhein said her office has also noticed students and advisers across campus are getting more adept at using degree audits and students are seeking advising in a timely fashion. She also said more students are opting to participate in commencement ceremonies.

Verhein said 70 percent of undergraduates who receive UNL degrees in May will participate in the commencement program.

"Our participation rate is just outstanding," said Verhein. "At other major universities, 50 percent is generally felt to be remarkable."

According to figures in Institutional Research and Planning's data index, UNL's first-time freshmen totals have been over 4,000 students in four of the past six years. The two largest groups of first-time freshmen registered in 2007 and 2008 with totals of 4,235 and 4,200 students, respectively.

Retention and graduation rates have also been steadily increasing.

According to the data index, UNL's six-year graduation rate has grown from 47.1 percent in 1990 to 66.6 percent in 2005. The four-year graduation rate has increased from 14.2 percent in 1990 to 32.2 percent in 2007; and the five-year rate was 39.4 percent in 1990 and hit a high of 60.9 percent in 2005.

Retention of first-time, full-time freshmen is also on the rise. In 1990, retention in the first year for first-time, full-time freshmen was 76.4 percent. That total grew to 84.4 percent in 2009 and was 83.6 percent in 2010.

Verhein and her staff are tasked with planning and executing UNL's commencement exercises. She said the increase in graduates seeking degrees brings a number of logistical issues that must be solved. The primary issue this year is space.

UNL has held graduate and undergraduate commencement ceremonies separately since December 2008. That change came when the Bob Devaney Sports Center no longer had the capacity to hold one commencement for all students.

This year, the floor of the Devaney Center will not be large enough to accommodate all undergraduates receiving degrees. Verhein said 400 seats in the bleachers — reserved for friends and families in previous years — will be reserved for graduating students.

"We still believe there will be enough seats for everyone who wants to attend," Verhein said. "But commencement is going to be cozy in Devaney, kind of like at a football game."

Chancellor Harvey Perlman will preside at the ceremonies at the Devaney Sports Center for recipients of master's and doctoral degrees at 3 p.m. May 4, and for recipients of baccalaureate degrees at 9:30 a.m. May 5. Kwame Dawes, professor of English and Glenna Luschei Editor of the Prairie Schooner at UNL, will address the May 4 postgraduate ceremony. Gen. C. Robert "Bob" Kehler, commander of the U.S. Strategic Command at Offutt Air Force Base, will address the baccalaureate ceremony.

College of Law commencement exercises begin at 3 p.m. May 5 at the Lied Center for Performing Arts. Jeffrey Toobin, a staff writer for the New Yorker and senior analyst for CNN, will give the address. Susan Poser, dean of the college, will preside.

The May 5 baccalaureate commencement exercises will be Web-streamed live via a link at http://www.unl.edu.

For more information about commencement exercises, including bios of the speakers, go to http://go.unl.edu/2ub.
More details at: http://go.unl.edu/2ub