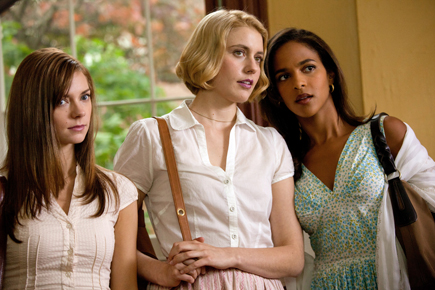 "Pina," Wim Wenders' breathtaking tribute to choreographer Pina Bausch, and "Damsels in Distress," a deadpan comedy about a group of girls determined to revolutionize life their school, open today at the Mary Riepma Ross Media Arts Center.

"Pina" runs for one week and is rated PG; "Damsels in Distress" runs through May 17 and is rated PG-13.

Bausch's final words, "Dance, dance or we are lost," summarize the choreographer's life and provided the inspiration for Wenders' tribute. "Pina" is a feature-length dance film with the ensemble of the Tanztheater Wuppertal in Wuppertal, Germany. The film features the unique and inspiring art of the great German choreographer, who died in the summer of 2009. Wenders follows the dancers out of the theater into the city and the surrounding areas of Wuppertal — the place, which for 35 years was the home and center for Bausch's creativity.

Directed by Whit Stillman, "Damsels in Distress" is a comedy about a trio of beautiful girls as they set out to revolutionize life at a grungy American university.
Those girls are: the dynamic leader Violet Wister (Greta Gerwig), principled Rose (Megalyn Echikunwoke) and sexy Heather (Carrie MacLemore). The girls welcome transfer student Lily (Analeigh Tipton) into their group. Together, they seek to help severely depressed students with a program of good hygiene and musical dance numbers.

The girls become romantically entangled with a series of men-including smooth Charlie (Adam Brody), dreamboat Xavier (Hugo Becker) and the mad frat pack of Frank (Ryan Metcalf) and Thor (Billy Magnussen) — who threaten the girls' friendship.

For more information, go to http://www.theross.org or call 402-472-5353.
More details at: http://www.theross.org