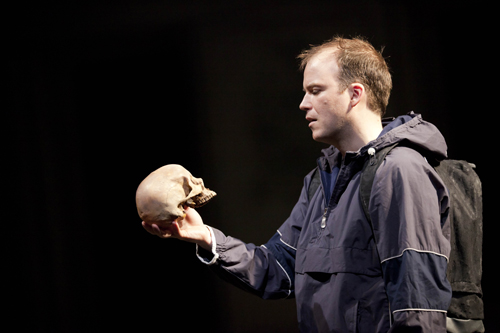 Rory Kinnear stars in a chilling new production of Shakespeare's "Hamlet," broadcast live from the National Theatre in London. The live performance is at 7 p.m., Dec. 9 with an encore performance scheduled at 3 p.m., Dec. 12.

Hamlet is the son of the late King Hamlet (of Denmark), who died two months before the start of the play. After King Hamlet's death, his brother, Claudius, becomes king, and marries King Hamlet's widow, Gertrude (Queen of Denmark). Young Hamlet fears that Claudius killed his own brother (Hamlet's father) to become king of Denmark, greatly angering Hamlet. Two officers, Marcellus and Barnardo, summon Hamlet's friend Horatio, and later Hamlet himself to see the late King Hamlet's ghost appear at midnight. The ghost tells Hamlet privately that Claudius had indeed murdered King Hamlet by pouring poison in his ear. Hamlet is further enraged and plots of how to revenge his father's death. What Hamlet cannot foresee is the destruction that ensues.

Tickets are $23 general admission, $21 seniors, $16 students/members of the Ross/children, and $5 for UNL students (with a valid NCard). For more information, or to purchase tickets, go to http://www.theross.org. Tickets are also available at the Ross box office.
More details at: http://www.theross.org