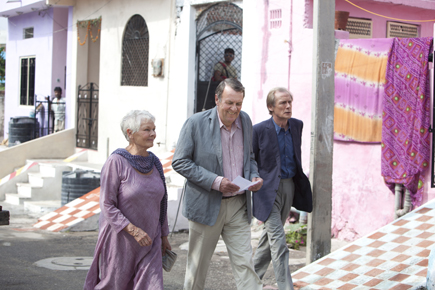 The captivating "Best Exotic Marigold Hotel" starring Judi Dench and Maggie Smith, and the Academy Award-nominated drama "Monsieur Lazhar" open Friday at the Mary Riepma Ross Media Arts Center. A movie talk about "Monsieur Lazhar" is 3 p.m. May 20.

"The Best Exotic Marigold Hotel" is rated PG-13 and runs through June 7; "Monsieur Lazhar" is rated PG-13 and runs through May 31.

For a disparate group of English pensioners (played by Judi Dench, Bill Nighy, Maggie Smith, Tom Wilkinson, Penelope Wilton, Celia Imrie and Ronald Pickup), retirement takes an unconventional turn when they abandon their homeland, enticed by advertisements for "the Best Exotic Marigold Hotel." The ad heralds a seemingly luxurious sanctuary for "the elderly and beautiful" in Jaipur, India.

On arrival, they discover that the hotel falls somewhat short of the romantic idyll promised in the brochure, but they are gradually won over by the ever-optimistic young manager Sonny (Dev Patel), and tentatively embark on a new adventure, finding that life can begin again when you let go of the past.

Events in "Monsier Lazhar" start in motion with the abrupt death of an elementary school teacher in Montreal. Having learned of the incident in the newspaper, Bachir Lazhar (Mohamed Fellag), a 55-year-old Algerian immigrant, goes to the school to offer his services as a substitute teacher. Quickly hired to replace the deceased, he finds himself in an establishment in crisis, while going through his own personal tragedy.

The cultural gap between Bachir and his class is made immediately apparent when he gives them a dictation exercise that is beyond their reach. Little by little, Bachir learns to better know this group of shaken but endearing kids, among whom are Alice and Simon, two charismatic pupils particularly affected by their teacher's death. While the class goes through the healing process, nobody in the school is aware of Bachir's painful past; nor do they suspect that he is at risk of being deported at any moment.

The film was nominated for the Academy Award: Best Foreign Language Film.

The 3 p.m., May 20 movie talk on "Monsieur Lazhar" will be led by James Le Sueur, a UNL professor of history. The free, public talk follows the 1:15 p.m. showing of the movie. Admission to the film is at regular Ross prices.

For more information, go to http://www.theross.org.