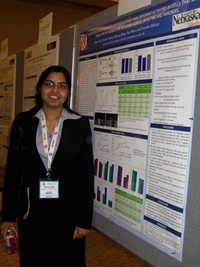 Nipun Saini received a New Investigator Award from the International Society for The Study of Fatty Acids and Lipids. The award was presented in May in Vancouver, Canada, during the society's annual meeting.

Saini's presentation at the event was titled, "Inhibitors of FATP-Mediated Fatty Acid Uptake Have Different Activities in Cells That Are Tissue-Specific Models for Fat, Liver, Muscle, Intestine and Pancreas."

Saini is a graduate student in biochemistry under the mentorship of Professor Concetta DiRusso.