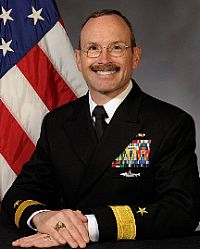 Ten cadets in the UNL ROTC program will receive military commissions in a joint commissioning ceremony Dec. 18 at the Nebraska Union, 1400 R St.

The ceremony begins 1:30 p.m. in the auditorium. The individual service branches will also have separate commissioning ceremonies in the Nebraska Union Auditorium -- Air Force at 4 p.m. Dec. 17, and Army and Navy-Marine Corps Dec. 18 following the joint ceremony. Rear Admiral Sean R. Filipowski, director for Cyber, Sensors, and Electronic Warfare on the Office of the Chief of Naval Operations Information Dominance Staff, will administer the officers' oath. Rear Adm. Filipowski, a native of New Jersey, graduated and was commissioned in 1982 from the University of Nebraska-Lincoln. He subsequently graduated from the Naval War College in 1994.

All ceremonies are free and open to the public.

Following is a list of candidates by hometown, with their service branch and the rank at which they will be commissioned:

NEBRASKA

Bellevue: 2nd Lt. Nicolas B. Polaske, Army.

Fullerton: 2nd Lt. Vince K. Koziol, Air Force.

Kearney: Ensign Daniel J. Walkemeyer, Navy.

Lincoln: 2nd Lt. Austen R. Bryan, Air Force; Ensign Christopher S. Lewis, Navy; 2nd Lt. Lindsay E. Griggs, Army.

North Platte: 2nd Lt. Sean M. Shanahan, Air Force.

Oxford: 2nd Lt. Blake N. Hehemann, Air Force.

Wayne: 2nd Lt. Emlyn E. Mann, Air Force.

ELSEWHERE

San Jose, Calif.: 2nd Lt. Marshall H. Angerman, Army.