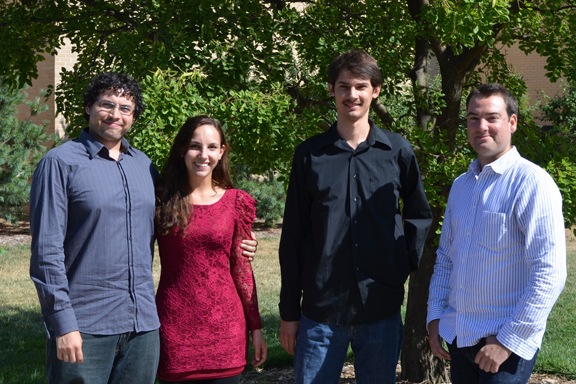 The School of Music recruited its first intact graduate string quartet this fall. The Skyros String Quartet comes to UNL for their doctoral education and will study with the Chiara String Quartet.

The Quartet includes Sarah Pizzichemi, violin, from Seattle, Wash.; James Moat, violin, from Toronto, Ontario; Justin Kurys, viola, from Timmins, Ontario; and William Braun, cello, from Tucson, Ariz.

"We really just want to get out and just play for everyone, and really break down that formal barrier between a performer and the audience," Braun said. "We just want to get out, meet people and perform for them and really bring our music to lots of people."

Jonah Sirota, Hixson-Lied Artist in Residence and violist with the Chiara String Quartet, said the Chiara first heard Skyros in October 2010 while teaching a guest artist masterclass at the University of Texas at Austin.

"We loved their exciting performances and their infectious positive spirit," Sirota said.

The Skyros Quartet attended the School of Music's Chamber Music Institute last summer, and after a rigorous audition process, became the inaugural graduate resident quartet this fall. They are pursuing Doctor of Musical Arts degrees in their respective instruments, with an emphasis in chamber music, that will add to their degree programs a rigorous focus on quartet performance. They are under the guidance of the Chiara String Quartet.

"The faculty, administration and staff in the School of Music and Hixson-Lied College of Fine and Performing Arts worked hard last year to create this opportunity, positioning UNL as a leader in advanced chamber music study," Sirota said. "To the best of my knowledge, we are only the second institution, along with the University of Maryland, to offer a performance-based Doctor of Musical Arts degree with chamber music emphasis to pre-formed chamber ensembles."

The Skyros Quartet formed in June 2010. Pizzichemi and Kurys, who are married, met in 2006 at a music festival in Italy. In 2009, they attended a quartet program in New York, where Kurys and Braun were roommates.

After discovering that the University of Texas at Austin had a master's program for pre-formed groups, Pizzichemi, Kurys and Braun, along with violinist Marina Brankovic, quickly got together to form a group.

"We all came together for one week and practiced for eight hours a day," Pizzichemi said. "We auditioned for the program and got in."

Braun said, "It was pretty nerve-racking to pre-form a group in six days."

While there, they studied under the Miró Quartet.

"I feel like the Miró Quartet did a really good job of setting us up and establishing what we're going to do," Braun said. "And the Chiara is going to really help us transition out into the real world and help us define what the Skyros Quartet is and how we can change the world."

Brankovic returned to her family this summer, so Moat is joining the group this fall. He received his master's degree from the Irish World Academy of Music and Dance in Limerick, Ireland, and was recently with the Thunder Bay Symphony in Ontario. He and Kurys were also roommates at that 2006 music festival in Italy, where Kurys and Pizzichemi met.

"I like how it's two Canadians and two Americans put together," Moat said. "Music is the universal language, all barriers aside."

School of Music Director John Richmond is excited to have the Skyros Quartet at UNL.

"I am simply delighted that we were able to bring the Skyros String Quartet to UNL for their doctoral education this fall," Richmond said. "Bringing intact student chamber groups to UNL has been an important part of graduate student recruiting in our strategic plan since 2005."

Their residency was made possible through a grant from the Hixson-Lied Endowment.

Skyros will make their Lincoln performance debut on Sept. 11 during the Chancellor's State of the University address, followed by a public performance with the Chiara String Quartet on their debut Hixson-Lied Concert Series performance on Sept. 18 at 7:30 p.m. in Kimball Recital Hall. Tickets are $20 general, $10 seniors and $5 students and available at the Lied Center for Performing Arts Box Office at 402-472-4747 or 800- 432-3231 or at the door.

Moat said, "I feel like this concert is really our introduction to Lincoln. It's our first major performance and major piece in the repertoire. It's very exciting. This piece is really explosive."

They are looking forward to performing with the Chiara String Quartet.

"Playing with professionals, it's just a whole other level of intensity," Moat said. "You play differently immediately. There's more energy in your own playing, and you realize immediately that you're learning. It's a great way to start the year."

Sirota said they will be busy with community engagement.

"In addition to their considerable skills as performers and scholars, the members of the Skyros Quartet also bring to UNL their strong interest in outreach performance and audience building," Sirota said. "We will be putting them to work performing all over the community, sharing their love of chamber music with diverse audiences, as well as continuing to build awareness for the UNL string and chamber music programs through performances for prospective recruits here, in the surrounding region, and nationwide."

The Skyros Quartet is up for that challenge.

"That's one thing that's really important to us is getting out into whatever community we're in and really just embedding ourselves in that community and finding ways to work with people," Braun said.

While in Austin, the Skyros Quartet worked with the University of Texas String Project and the Chamber Music in Public Schools program in Austin.

"We have to start all over [in Lincoln], but we're excited about it," Braun said. "We really just want to get out. Any way we can reach an audience, we're willing to try. We've discussed different collaborations that we want to pursue. We have a lot of ideas."

They know the Chiara are good models for community engagement as well.

"The Chiaras are so great about how they get out into the community, and how they approach performance is really amazing," Pizzichemi said. "They go to coffee shops, they go to bars, they go to concert halls and they try a variety of things. They're not afraid to try new things. It's nice to get to work with them and bounce ideas off of them."

For more information on the Skyros Quartet or to see their performance schedule, visit http://www.skyrosquartet.com. They are also on Facebook and Twitter.