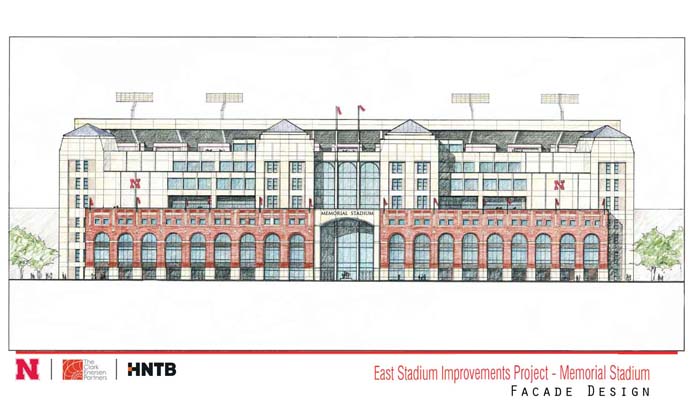 The College of Architecture will present a new exhibition, "GamePlan Architecture," opening with a First Friday reception, 5:30 to 7:30 p.m., Sept. 7 in Architecture Hall. The exhibit runs through Sept. 15.

In this exhibition, visitors will get an up-to-date look at the new Pinnacle Bank Arena and Memorial Stadium's East Stadium expansion before the venues are open to the public. The exhibit details the arena and stadium designs from the beginning stages of construction and planning through final drawings. Exhibition highlights include interior details, materials facts and figures, architectural drawings, three-dimensional models and digital media images.

"The College of Architecture has partnered with DLR Group, The Clark Enersen Partners and UNL's Capital Planning and Construction Department to showcase local projects by local architects," said DiAnna Hemsath, exhibition administrator for the College of Architecture. "This is an opportunity for the students and the community to view the architectural and interior details of the athletic venue construction projects visible on the Lincoln horizon."

The exhibition will also be open to public viewing from 9 a.m. to 5 p.m. Sept. 10-14 and from 8:30 to 10:30 a.m. on Sept. 15, prior to the Nebraska-Arkansas State football at Memorial Stadium.

In conjunction with the exhibition, the College of Architecture will host a lecture by UNL alumna Erleen Hatfield at 4:30 p.m. Sept. 7 at the Mary Riepma Ross Media Arts Center, 313 N. 13th St. Hatfield is a structural engineer and a principal of the firm Buro Happold. She will discuss Buro Happold's work on the Pinnacle Bank Arena and a selection of the firm's other engineering projects.

The exhibition and lecture are free and open to the public.

Constructed in the newly expanded Haymarket, the Pinnacle Bank Arena will seat 16,000 fans and will host Husker basketball and other events. Designed with energy efficient and environmentally-friendly materials, the intimate setting features a standing room student section, retractable seating, 900 club seats and 36 executive suites. The arena will open in fall 2013.

Blending tradition, a powerful fan presence and academic research, Memorial Stadium's East Stadium expansion encloses and builds upon the existing facade, adding 6,400 additional seats, including 38 suites, club level balconies and a standing room balcony for 500. Two new 20,000-square-foot spaces will house research facilities for the Nebraska Athletic Research Facility and for the UNL community. The expansion will open to the public in August 2013.

For more information on the exhibit, go to http://events.unl.edu/2012/09/07/70442/.